William Kraft
William Kraft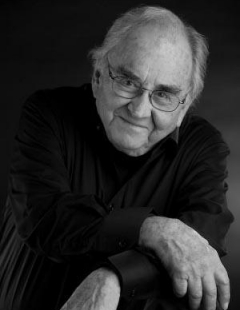 Specialization
Composition Program
Former Corwin Chair
Bio
William Kraft (b. 1923, Chicago) has had a long and active career as composer, conductor, percussionist, and teacher. In the summer of 2002, he retired as chairman of the composition department and holder of the Corwin Chair at the University of California, Santa Barbara. From 1981-1985, Mr. Kraft was the Los Angeles Philharmonic's Composer-in-Residence. During his residency, he was founder and director of the orchestra's performing arm for contemporary music, the Philharmonic New Music Group. Mr. Kraft had previously been a performing member of the Los Angeles Philharmonic for 26 years – eight years as percussionist, and the last 18 as Principal Timpanist. For three seasons, he was also assistant conductor of the Philharmonic, and, thereafter, made frequent appearances as guest conductor.
During his early years in Los Angeles, Mr. Kraft organized and directed the Los Angeles Percussion Ensemble, a group which played a vital part in premieres and recordings of works by such renowned composers as Ginastera, Harrison, Krenek, Stravinsky, Varèse, and many others. As percussion soloist, he performed the American premieres of Stockhausen's Zyklus and Boulez's Le Marteau sans Maître, in addition to recording Histoire du soldat under Stravinsky's direction.
Mr. Kraft has received numerous commissions and awards, including two Kennedy Center Friedheim Awards; two Guggenheim Fellowships; two Ford Foundation commissions; fellowships from the Huntington Hartford Foundation and the National Endowment for the Arts; the American Academy and Institute of Arts and Letters Music Award; and numerous others. Mr. Kraft's works have been performed by orchestras throughout the United States and around the world, including in Europe, Japan, Korea, China, Australia, Israel, and the former Soviet Union. In November 1990, Mr. Kraft was inducted into the Hall of Fame of the Percussive Arts Society.
In 2005, Mr. Kraft's Concerto No. 2 for Timpani: The Grand Encounter, commissioned by the San Francisco Symphony Orchestra, was premiered under Maestro Michael Tilson Thomas with David Herbert as soloist. A significantly revised version of the concerto was premiered in the spring of 2007 by the Hong Kong Philharmonic, conducted by Xian Zhang, with soloist James Boznos; later the same year, David Herbert gave the first U.S. performance at the annual convention of the Percussive Arts Society in Columbus (Ohio), with the Akron Symphony, under Guy Victor Bordo. Red Azalea, an opera commissioned by the Modern Music Theater Troupe (London), was premiered in 2002 at the University of California, Santa Barbara's New Music Festival, followed by its European premiere in London.
Compact discs completely devoted to Mr. Kraft's music can be found on the Harmonia Mundi, CRI, Cambria, Crystal, Albany, and Nonesuch labels. Other works have been released on GM, Crystal, London Decca, Townhall, EMI, and Neuma. A 3-CD set of the "Encounters" series has recently been released by Cambria Master Recordings.
Mr. Kraft received his bachelor's degree cum laude (1951) and his master's degree (1954) from Columbia University, where he was awarded two Anton Seidl Fellowships. His principal instructors were Jack Beeson, Seth Bingham, Henry Brant, Henry Cowell, Erich Hertzmann, Paul Henry Lang, Otto Luening and Vladimir Ussachevsky. He received his training in percussion from Morris Goldenberg and in timpani from Saul Goodman, and studied conducting with Rudolph Thomas and Fritz Zweig.