Andrew Tholl
Andrew Tholl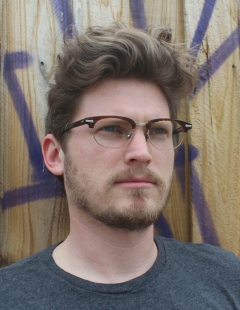 Position
Continuing Lecturer, Composition
Specialization
Composition
Bio
Dr. Andrew Tholl is a Los Angeles-based composer, violinist, drummer, and improviser. Hailed by the Los Angeles Times as "vigorously virtuosic," his performances and compositions have been heard throughout the United States and Europe. As a composer, Tholl's interest lies in the exploration of the passage of time, the physicality of making music, noise, nostalgia, memory, and the synthesis of diverse musical styles. He has been commissioned by ensembles such as wild Up, Formalist Quartet, Gnarwhallaby, the New Century Players, and The Isaura String Quartet; his works have been heard at Walt Disney Concert Hall (Los Angeles), Roulette (New York), National Sawdust (New York), Dartington International Summer Festival (England), Complice (Berlin), Oberlin College (Ohio), Princeton University (New Jersey), Zipper Hall (Los Angeles), Listen/Space (New York), Beyond Baroque (Los Angeles), Gridlock (Vancouver), CNMAT (Berkeley), the Hammer Museum (Los Angeles), and more. In 2013 his violin concerto, Asphyxiation, was featured at REDCAT (and performed by Tholl), as part of VLN & VLA, a concert presenting new and older works for violin and viola. More recently, his adaptation of John Adams' American Standard was described as "a refreshingly juvenile Ivesian death march" (New Music Box). Other recent activities include several performances at the 2016 Carlsbad Music Festival, and a newly commissioned site-specific work for The Getty Center. His work has been released on Populist Records, Bedroom Community, Cold Blue Records, and Domino Records.
As a soloist and chamber musician, he is dedicated to the performance of new music and the collaborative process between composer and performer. He is a co-founder of the "superb" (Los Angeles Times) Formalist Quartet, an ensemble dedicated to the performance of adventurous new repertoire by both established and emerging composers. Tholl is also a member of wild Up, for which he serves as violinist, composer, and personnel manager. Aside from his role as a "classical" musician and composer, Tholl maintains a second musical life working in pop, rock, punk, noise, and improvisational music as a composer, violinist, and drummer. Past contributions include string performances and arrangements for Julia Holter's Loud City Song and Have You in My Wilderness, as well as Ducktails' St. Catherine. His most recent release, CONDITIONAL TENSION, an album of improvisational work with the trio tholl/fogel/hoff, was released in 2015 by Populist Records (which he co-owns and operates).
Tholl holds degrees from Arizona State University, the University of Michigan, and the California Institute of the Arts and is on faculty at Ventura College and the Pasadena Waldorf High School. He lives in Los Angeles where he continues to be involved with music for concert halls, art galleries, films, puppet shows, bars, garages, bedrooms, and coat closets. More info can be found at andrewtholl.com.