Martha Sprigge
Martha Sprigge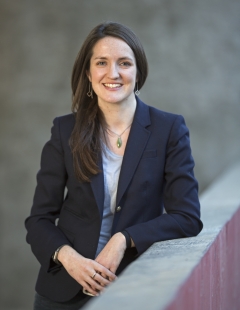 Position
Associate Professor, Musicology Program
Specialization
Musicology Program
Germany and Eastern Europe, post-1945
Memory and Trauma Studies
Bio
Martha Sprigge (she/her) is a historical musicologist whose research examines musical expressions of mourning, grief, and loss in Germany and Eastern Europe from 1945 to the present day. She is interested in how composers, performers, and audiences used music as an alternative to language in forming responses to the immense political, cultural, and individual upheavals induced by World War II and the Cold War.
Dr. Sprigge's first book examines music and commemorative practices in former East Germany. Titled Socialist Laments: Musical Mourning in the German Democratic Republic, it will appear as part of The New Cultural History of Music series published by Oxford University Press in March 2021. Her articles and essays on music and German memorial practices have been published in the journal Twentieth-Century Music, the Journal of the Royal Musical Association, as well as in the edited volumes Classical Music in the German Democratic Republic: Production and Reception (edited by Kyle Frackman and Larson Powell), and Dreams of Germany: Musical Imaginaries from the Concert Hall to the Dance Floor (edited by Neil Gregor and Thomas Irvine). She recently began a new research project on musical widowhood, which examines how the relationship between gender and archival practice has shaped the historiography of twentieth-century European art music.
In the music department, Dr. Sprigge teaches a range of undergraduate courses in music history, where students learn about musical practices within their cultural contexts, as well as the act of writing (music) history itself. At the graduate level her courses are interdisciplinary. Students in recent seminars have explored the relationship between music and trauma, cultural memory, and death studies. She is also an affiliate faculty member of the department of Germanic and Slavic Studies.
Dr. Sprigge holds a PhD in music history and theory from the University of Chicago (2013) and a Bachelor of Music from the University of Toronto (2006). Before joining the faculty at UCSB in 2015, she held a postdoctoral fellowship in the University of Michigan's Society of Fellows, where she was cross-appointed in the Department of German and the School of Music.
Publications