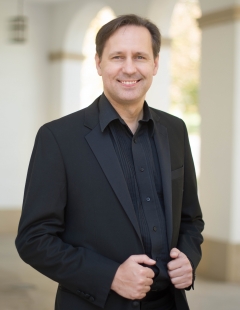 Position
Lecturer, Chamber Orchestra and Orchestral Conducting Program
Specialization
Chamber Orchestra Conductor
Opera Theatre Conductor (Winter 2019)
Bio
Ukrainian-born conductor and educator, Dr. Maxim Kuzin, has established himself as a distinguished international artist in the orchestral and choral world. His commitment goes beyond the traditional realms of conducting, educating, collaborating, and presenting; he is deeply invested in nurturing emerging talents and illuminating the obscured masterpieces of classical music.
Currently, Dr. Kuzin holds the esteemed position of Music Director of the Thousand Oaks Philharmonic and the University of California, Santa Barbara Chamber Orchestra. Additionally, he plays a pivotal role with the Irvine Classical Players Youth Orchestra and the Hankuk University of Foreign Studies Chorale in Los Angeles. His academic journey reached its zenith with a Doctorate of Music Arts in Orchestral Conducting from UCLA, where he was honed under the expert guidance of Professor Neal Stulberg.
Before his arrival in the U.S. in 2014, Dr. Kuzin was deeply embedded in Ukraine's and Eastern Europe's rich musical tapestry. He held significant roles within premier Ukrainian musical institutions of Tchaikovsky National Music Academy of Ukraine, Reinhold Glier Institute of Music, and guest-conducted for a slew of Eastern European orchestras including the National Symphony and National Philharmonic Orchestras of Ukraine, the National President's Orchestra of Ukraine, the National Symphony Orchestra of Georgia, and the Vladivostok Philharmonic in Russia, to name a few.
Championing contemporary compositions, Dr. Kuzin's leadership of the Ricochet New Music Ensemble in Kyiv under the hospice of the Ukrainian National Composer's Union of Ukraine has led them to grace the stages of Ukraine's most respected music festivals such as Music-Fest (Kyiv), Two Days & Two Nights (Odesa), Musical Premieres of the Season (Kyiv), Kontrasty (Lviv), and Youth Art Forum (Kyiv).
On the operatic front, Dr. Kuzin boasts a rich repertoire that spans over twenty productions, including the most notable of Leoncavallo's 'Pagliacci', Massenet's 'Cendrillon', Rossini's 'The Barber of Seville', Tchaikovsky's 'Eugene Onegin,' as well as Strauss' 'Die Fledermaus', and Lehár's 'The Merry Widow' and 'The Mock Marriage.' These performances have resonated in the historic theaters of Ukraine, and Russia, as well as in Opera UCLA, and UCSB Opera in the US.
Dr. Kuzin's musical roots trace back to Kyiv's Lysenko Specialized Boarding Music School, leading to advanced studies at the Tchaikovsky National Musical Academy of Ukraine as both a choral and orchestral conductor. His contributions to the field have earned him accolades such as the "Emerging Artist" recognition by the League of American Orchestras' Symphony Magazine (2005) and the Elaine Krown Klein Fine Arts Scholarship Award (2017). Notably, his versatility took center stage when he conducted the Ukrainian version of 'Dancing with the Stars.'
Dr. Maxim Kuzin brings both professionalism and a forward-thinking approach to the classical music world, consistently offering significant and innovative contributions to the field.