Pasha Sabouri
Pasha Sabouri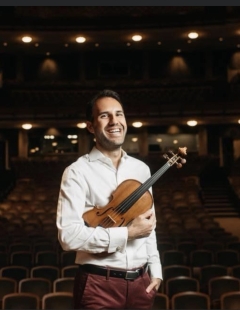 Position
Lecturer, Violin
Bio
Pasha Sabouri is one of the most sought-after and respected American violin pedagogues of the new generation. He has performed in recitals and concerts in Holland, Sweden, Austria, Germany, UK, throughout the United States and Canada. A passionate educator and a published author whose acclaimed book "Upbeat" guides middle and high school students and their families on the road to professional musical education and career. His students are competing and featured in such competitions and media outlets as Menuhin Competition, Sphinx Competition, Dallas Symphony's Lynn Harrell Competition, ENKOR Competition, and NPR's From The Top, winning the coveted "Jack Kent Cooke" Award.
Pasha Sabouri is the founder and Artistic Director of the Texas Strings Festival, and it's affiliate Master Series - a year-round educational initiative which provides the students with extraordinary opportunity to be guided and inspired by leading musicians of the day. Throughout the years the students of TSF have had the privilege to work with such luminaries as Miriam Fried, Vadim Gluzman, Paul Kantor, Ida Kavafian, Jan Mark Sloman, Jinjoo Cho, Nadja Salerno Sonnenberg, Robin Wilson, Grigory Kalinovsky and William Hagen. He is also the founder and leader of Teachers' Lounge – an online teachers collective designed to support and empower his colleagues with innovative ways of teaching and studio development.
Based in the San Francisco Bay Area, his primary focus is his highly successful private studio. Pasha Sabouri is on the faculty of the San Francisco Conservatory of Music Pre-College. He has also had the privilege to serve as Adjunct Professor at Concordia College as well as Artistic Director at the Concordia College Music Academy in Austin, Texas. Prior to this position, he was appointed Lecturer Violin Professor at Centenary College in Shreveport, Louisiana, and has also been faculty at Encore Chamber Music Institute, Omaha Conservatory of Music Institute, the Brian Lewis Young Artist Program, and has adjudicated at Carnegie Hall NYO/2 program, Jack McGehee and UT Concerto Competitions.
Pasha Sabouri has appeared as a soloist at the opening of the Edinburgh Festival, performed with the Texas Chamber Orchestra, Las Vegas Philharmonic, Henderson Symphony, and the Ottawa Sinfonette. He was awarded the first prize at the National Federation of Music Clubs Young Artist Competition, and was named National Finalist for Music Teachers National Association, The Texas Young Artist, and the Coeur D'Alene Competitions. He is a graduate of Cincinnati College-Conservatory of Music and the University of Texas Butler School of Music, studying with Won-Bin Yim, Naoko Tanaka, and Brian Lewis. His violin is a Johannes Cuypers 1793.