Steven Gross
Steven Gross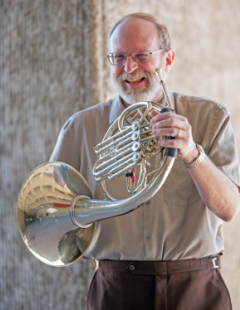 Position
Professor, Woodwind Brass & Percussion Program
Specialization
French Horn
Woodwind, Brass & Percussion Program
Bio
STEVEN GROSS is Professor of Horn and Head of the Woodwind, Brass, and Percussion Area at the University of California–Santa Barbara. Dr. Gross is also a former member of the Atlanta Symphony, National Symphony, Santa Fe Opera Orchestra, and for 24 years Principal Horn of the Cincinnati Chamber Orchestra. His international appearances include the Orchester der Stadt Vöcklabruck in Austria, Moscow Conservatory, L'Abri International Arts Festival in Switzerland, Nairobi Symphony in Kenya, NTUA Wind Ensemble in Taiwan, and the Camerata Filarmonia Bohemia of Prague. His Carnegie Hall debut was described by the New York Concert Review as, "offering some of the cleanest articulation and purest musicality."
During the past year, Dr. Gross held a 12 day performing and teaching residency at the Beijing Conservatory, and was a featured clinician at the South African National Horn Symposium.
Dr. Gross performed as a soloist with orchestra at the 2015 International Horn Society Symposium in Los Angeles, with the North American orchestra premiere of the Ji?í Havlík Concerto for Horn, Dale Clevenger conducting. During the same concert, he also played the Telemann Concerto for Three Horns with fellow soloists Jim Thatcher and Dale Clevenger.
Steven Gross has released 6 solo CDs with orchestra, comprising 5 with orchestra accompaniment and 1 with piano and organ. Gramophone Magazine praised his playing for its "subtle flair and vibrant character," as well as its "suave and poetic conversation." Reviews from the American Record Guide describe his playing as "outstanding, striking the right balance between thoughtfulness and verve, planning and spontaneity…an excellent tone and the ability and temperament to play heroically." Horn Call magazine states that he "plays technically flawlessly and highly expressively throughout…Highly recommended."
In 2008, Dr. Gross was awarded the Stich-Punto Commemorative Plaque from the Czech Horn Society for outstanding devotion to Czech horn music. He is only the second American to receive this award.
Steven Gross has given numerous international masterclasses. These include Switzerland, at music schools in Zurich, Basel, Lucerne, and Winterthur. Other European masterclasses include the Moscow Conservatory, Royal Academy of Music in London, and in Austria. Dr. Gross has been a featured artist at Hornclass and the Ameropa International Chamber Music Festival in the Czech Republic. In South Africa, he was clinician at the Stellenbosch Conservatory and the University of Cape Town. Dr. Gross was a faculty artist in China at the First International Music Festival at SIAS University, as well as guest Principal Horn with the Hunan Symphony. In the summer of 2014, he was artist faculty at the Crescendo Summer Institute in Tokaj, Hungary. Previously, the National Taiwan University for Arts appointed Dr. Gross Visiting Professor of Horn.
In the United States, he has presented concerts and masterclasses at the Eastman School, Peabody and Oberlin Conservatories, and Indiana, Southern Methodist, Baylor, Florida State, Temple Universities, plus the Universities of Miami, Colorado, and Michigan, among many others.
At the age of 21, Steven Gross won the First International Heldenleben Horn Competition. He is now Director of the International Horn Competition of America, North America's leading solo event for horn.
His summers include performing as Principal horn of the Oregon Coast Music Festival Orchestra, and horn faculty at Horns in the Redwoods.
Steven Gross considers his family his greatest pride and joy—his wife Julie, son Mike & wife Lily, as well as daughter Katie.
UCSB Department of Music Featured Faculty: Steven Gross
To learn more about the UCSB Horn Studio, please visit their website or the UCSB Horn Studio page.
Publications
Czech-American Horn Duo (Summit Records)

Steven Gross, horn / Jiří Havlík, horn / Camerata Filarmonica Bohemia

"…these musicians…have found a happy stylistic middle ground wherein their sounds merge compatibly. …impressive feat!…Let's hope that musicians and conductors will be inspired to program these works after hearing this excellent recording."

- The Horn Call

Steven Gross, horn

Gross manages the challenging horn part with subtle flair and vibrant character. The delights extend to concertos by Quantz, Roellig and Neruda…[played with] suave and poetic conversation. Clevenger's conducting is as sensitive and sure as his own horn-playing, and the Capella Istropolitana respond with handsome alacrity.

- Gramophone Magazine

Bohemian Horn Concertos (Summit Records)

Steven Gross, horn / Camerata Filarmonica Bohemia directed by Ji?í Havlík

Seldom in recent years have I heard a horn recital on disc as impressive and richly rewarding as Steven Gross's latest, titled Bohemian Horn Concertos. Every movement of every concerto is eminently enjoyable, production values are of the highest quality, the soloist is superb, and his backup orchestra sounds just as committed and professional as he does. Gross's playing brims with confidence, flair, and authority.

- Fanfare Magazine

Masterpieces for Horn & Strings (Summit Records)

Steven Gross, horn

"Outstanding, striking the right balance between thoughtfulness and verve, planning and spontaneity…an excellent tone and the ability and temperatment to play heroically."

- American Record Guide

Steven Gross, horn / Robert Simpson, organ / Beverly Hillmer, piano

"He and Robert Simpson take advantage of a fine venue and an even more excellent organ, that of the Cathedral of St. Philip, Atlanta, for some rare gems from the repertoire for horn and organ...Gross and Simpson go on to explore three modern American works that stress both the idiomatic qualities of the horn and the ways in which they delight in pushing the envelope in terms of what it can do."

-Review, Audio Visual Club of Atlanta

Steven Gross, horn / Philharmonia Orchestra of Bratislava directed by Dale Clevenger

This album ought to be special. After all, the conductor is Dale Clevenger (principal horn of the of the Chicago Symphony since 1966) and the horn soloist is a prominent American. … Outstanding, striking the right balance between thoughtfulness and verve, planning and spontaneity. Gross, of the University of California at Santa Barbara, has an excellent tone and the ability and temperament to play heroically. The orchestra sounds very good, and the sound is vivid.

- American Record Guide