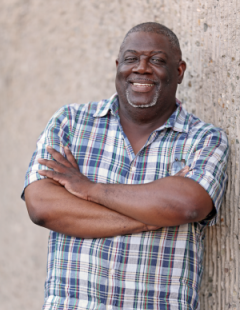 Position
Continuing Lecturer, Ethnomusicology Program
Specialization
Gospel Choir
Ethnomusicology Program
Bio
Victor Bell & Halel was birthed in 1995, reminiscent of the early Kirk Franklin & The Family after Victor received instruction from the Lord to form a singing aggregation that would cause men and women to bless Him. Victor's unique gifts of writing, teaching, and directing make him stand out with respect among his peers. His gift has allowed him to move beyond the church walls and into many fields such as TV and film. He served as a music consultant for Stan Lathan (TV director, Sanford & Son, Fresh Prince) for such TV shows as The Steve Harvey Show (whenever Steve appeared to be playing the piano it was Victor behind the scenes playing), Cedric The Entertainer, Bernie Mac show, Method & Red, All of Us, Key & Peele, and most recently The Soul Man featuring Cedric the Entertainer & Niecy Nash. He was also music guest and director for the wedding of actor Blair Underwood. Mr. Bell is a tenured professor in the Department of Music at UC Santa Barbara.
Recently, Victor Bell & Halel was featured on the new Oxygen network hit show, Fix My Choir, with Michelle Williams (Destiny's Child) and renowned gospel star Deitrick Haddon. They were received with rave reviews and won first place in the choir competition.
Their new single, "I'll Bless Him," was produced by famous producer Shavoni Parker, (Kirk Franklin, Yolanda Adams, Prince of Egypt), with stellar musicians, Patrick Bolton, Gordon Campbell, Robert JJ Smith, Big Jim, (BET, Sunday's Best) Donald Hayes, and Erik Walls.
Mr. Bell is the founder and Senior Pastor/Teacher of Praise House Worship Center in Torrance, CA. He is married to Ronette Bell, and together they have four beautiful children.
Secondary email: VBell97405@aol.com