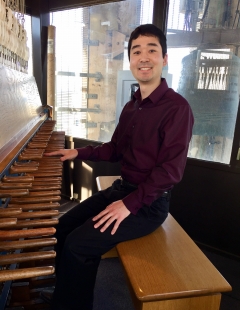 Position
Lecturer, Keyboard Program (Carillon)
Specialization
Carillon
Keyboard Program
Bio
Wesley Arai studied carillon with Jeff Davis at the University of California, Berkeley, where he received BA degrees in Mathematics and Statistics with a minor in Music. While earning an MA degree in Mathematics at UCLA, he continued to play the carillon and subsequently passed the advancement examination of the Guild of Carillonneurs in North America.
Arai has toured extensively as a guest recitalist throughout the United States and abroad, most recently performing in Australia. He is an annual recitalist at the Cathedral of St. John the Evangelist in Spokane, Washington and has been featured as a recitalist at several Congresses of the Guild of Carillonneurs in North America, the Berkeley Carillon Festival, and was the dedicatory recitalist for the carillon at the University of Washington.
In addition to the carillon, Arai has studied piano, trombone, and voice, and has performed in a number of different concert bands, marching bands, jazz bands, orchestras, and choral groups. He enjoys arranging music and occasionally performs some of his own arrangements on the carillon.
Secondary email: waraiwarai@gmail.com