Dariush Derakhshani
Dariush Derakhshani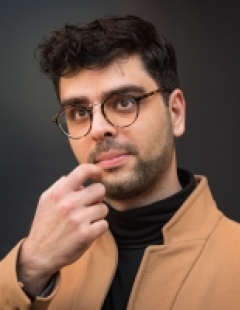 Specialization
Composition
Bio
Dariush Derakhshani is a German-born Iranian composer/performer of concert and electroacoustic music. He has written for numerous acclaimed soloists and ensembles, with whom his works have been performed internationally. His main research interests lie in using algorithms for composing acoustic and electroacoustic music, live-coding, sound synthesis, and building new electronic instruments used for free improvisation.
He has attended international festivals such as Ecoles d'art Americaines de Fontainbleau, where he composed Synced–a piece for chamber ensemble and electronics–which received the 2017 Prix du Jury. He also attended IRCAM Manifeste, where he had the opportunity to work closely with members of Ensemble Intercontemporain, and Altitude Festival where he composed the piece Error Code -39 for l'ensemble Multilatérale. In 2019, he composed der sturm for orkest de ereprijs which was premiered under the baton of Rob Vermeulen.
Other notable festival appearances include Impuls Academy, the Madeira Residency where he composed Whispers for Keiko Murakami, Festival DME where he premiered his acousmatic work Time, Barcelona Mixtur Festival where he worked with members of PHACE Ensemble, and Kyiv Contemporary Music Days where he composed Curiosity for clarinet and electronics.
He has studied and participated in masterclasses with the composers Helmut Lachenmann, Tristan Murail, Beat Furrer, Mauro Lanza, Alexander Schubert, Raphaël Cendo, Patricia Alessandrini, Yann Robin, Gilbert Nouno, Åke Parmerud and Jaime Reis.