Lorenzo Johnson Jr
Lorenzo Johnson Jr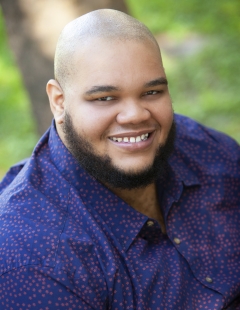 Bio
Beginning Fall 2022, tenor, Lorenzo Johnson, Jr., will be pursuing a Doctor of Musical Arts in Vocal Performance at the University of California, Santa Barbara under the instruction of Professor Benjamin Brecher. Lorenzo began singing in high school with joining the choir and then competing in All-State and Solo & Ensemble competitions in Dallas, Texas. He recently completed his Master of Music in Vocal Performance at Florida State University in Fall 2021 (studying under Dr. Evan Jones and Dr. Chuck Chandler) and obtained a Bachelor of Music in Vocal Performance from Sam Houston State University in Spring 2019 (studying under Dr. Wesley Lawrence and Dr. Jammieca Mott).
Upon attending Florida State, Lorenzo was awarded a graduate teaching assistantship with which he maintained a voice studio, developing beginning singers majoring in music education, music therapy, and other primary disciplines not related to music. During his performance career, Lorenzo has performed in young artist programs in Dubai, Italy, and Alaska. He has also performed in Japan as a part of an exchange program with Kobe College and Sam Houston State University.
Lorenzo has been a member of various choral ensembles throughout his singing career. During the 2021-2022 season, he joined Festival Singers of Florida under the direction of Dr. Kevin Fenton and toured around Florida performing for communities following the COVID-19 pandemic.
Lorenzo has performed in a number of opera productions with Florida State Opera, Florida State Opera Outreach, Sam Houston State University Opera Theater, Raven Summer Opera at SHSU, Accademia Vocale Lorenzo Malfatti, and Fairbanks Summer Music Festival. His roles include The Witch from Engelbert Humperdinck's Hansel and Gretel, James Gadshill from Heinrich Marschner's Der Vampyr, The Defendant from Gilbert and Sullivan's Trial by Jury, Sailor from Henry Purcell's Dido and Aeneas, the Realtor from Michael Ching's Speed Dating Tonight!, as well a great number of partial and chorus roles.