Valdis Jansons
Valdis Jansons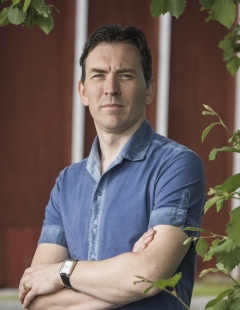 Specialization
DMA Voice
MM Choral Conducting, Spring 2023 (pending)
Bio
Latvian baritone, Valdis Jansons, made his opera debut in 2004 under the direction of Antonello Allemandi. Winner of many international competitions (Giuseppe Di Stefano 2006, As.Li.Co. 2009 etc.), he has sung more than 60 roles in more than 70 theaters all over the world. Among them: Teatro alla Scala in Berg's Lulu, directed by Peter Stein and conducted by Daniele Gatti in 2011; Teatro Carlo Felice di Genoa as Capulet in Romeo et Juliette, directed by Jean Louis Grinda and conducted by Fabio Luisi in 2012; Teatro Filarmonico di Verona, Teatro Regio di Parma; Sao Carlos Theater of Lisbon, Moscow's Bolshoi Theater, Theater an der Wien; Teatro San Carlo di Napoli, Lincoln Center, NCPA in Beijing. Among his recent engagments are: Enrico Ashton in Lucia di Lammermoor by Donizetti at Bolshoi Theatre in Moscow, Il Conte di Luna in Il Trovatore at Teatro São Carlos (Lisbon, Portugal), at San Carlo Theatre in Naples as the baritone soloist in Carmina Burana by Orff, at the Monte-Carlo Opéra in Rusalka, Figaro at Carlo Felice Opera House in Genoa, then at Theatro Municipal in Rio De Janeiro (Brazil) as Escamillo in Carmen, again as Escamillo in Genoa, Don Giovanni at the opening of the 16th International Music and Dance Festival of Bangkok (Thailand). In April 2015 Mr. Jansons made his debut as Billy Budd at Teatro Carlo Felice in Genoa. In December 2015 he made his debut as Onegin at Opera Wrocławska, in March 2016 as Rodrigo in Verdi's Don Carlo at Lithuanian National Opera, Zurga in The Pearl Fishers at Opera Wrocławska, Rigoletto, Valentin in Faust, Verdi's Macbeth, Wolfram in Tannhäuser by Wagner at Latvian National Opera, Giorgio Germont in La Traviata at Teatro Marrucino in Chieti, Italy, in 2017 he sang with Ramon Vargas in Lucia di Lammermoor at National Opera of Bucarest (Romania), has performed Scarpia in Puccini's Tosca in Tours, France, King Roger in Szymanowsky's eponymous opera in Krakow, Poland, Eisenstein in Die Fledermaus at Teatro Petruzzelli di Bari, Nello in Pia de' Tolomei by Donizetti at the theatres of Pisa, Lucca, Livorno as well as at Spoleto Festival in Charleston (SC) in May and June 2018, then Rodrigo in Don Carlo at Opera pa Skäret (Sweden), Ping in Turandot in a tournèe in China. In February - March 2019 he made his stage debut at Oper Graz (Austria) as King Roger. His upcoming engagements include Nabucco by Verdi in Latvia and Ramiro in L'Heure Espagnole by Ravel in Italy.
Mr. Jansons has worked with such a conductors as Daniele Gatti, Fabio Luisi, Daniel Oren, Daniele Callegari, Stefano Ranzani, Lawrence Foster, Antonello Allemandi, Isaac Karabtchevsky, Asher Fisch, Philippe Augin, Stefan Anton Reck, and Pierre Vallet, as well as stage directors such as Gianfranco De Bosio, Lamberto Puggelli, Peter Stein, Giancarlo del Monaco, Emilio Sagi, Jean Louis Grinda, Günter Krämer, Andrei Serban, Shen Wei, Davide Livermore, Guy Montavon, and Dieter Kaegi.
Mr. Jansons has covered several times the opera "stars" (Leo Nucci as Rigoletto, Rolando Panerai and Juan Pons as Gianni Schicchi, Roberto Servile as Marcello in La Bohème).
The following critics acclaimed him:
"…Beautiful voice, great vocal line, stylistically focused already since the beginning of a "role-monster" for basses and baritones, considerable interpretation intentions in his varied and nuanced phrasing, as well as in the word articulation of a perfect and well marked Italian. All this added to his tallness and elegant gait, envisages him as an element that, after having successfully metabolized and having run in the role, will give a hard time to many 'prominent rivals.'… "
-Andrea Merli (Don Giovanni at National Opera of Macedonia, taken from the monthly magazine "L'Opera", June 2011)
"The brightest ornament of the group was baritone Valdis Jansons, whose Henry was both elegant and memorable. Precisely this artist was the highlight of the performance and turned out to be the best amongst all others who came to Moscow this time around."
-Piotr Pospelov (Lucia di Lammermoor at Bolshoi Theatre in Moscow - Newspaper "Vedomosti" 12.02.2013)