Carl Zytowski (1921-2018)
Carl Zytowski (1921-2018)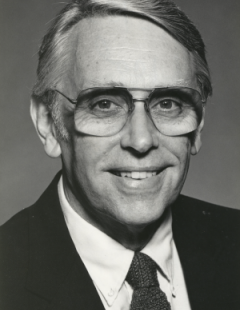 Position
Professor Emeritus, Voice Program
Specialization
Voice Program
Director of the UCSB Schubertians
Bio
Carl Zytowski, Professor Emeritus of Music at the University of California, Santa Barbara, lived a life that spanned the Roaring Twenties, the Great Depression, the Second World War (in which he served in the US Army in England), and the post-war years of American power and prosperity.
During his 44-year tenure at UC Santa Barbara (1951-1995), Zytowski, a tenor soloist and choral director, taught music theory and practice, directed the voice and choral programs, founded the opera program and the Schubertians, and twice served as Chair of the Music Department, all while prolifically writing, composing, and publishing. He was also a prime mover in shepherding to completion the university's most important music venue, Lotte Lehmann Concert Hall. As a lyric tenor of notably high range and purity, Zytowski sang with choruses and orchestras locally and throughout the nation and abroad. As conductor, he worked with university choral ensembles and its orchestra, specializing in the oratorios of Handel and choral works of English composers like Ralph Vaughn-Williams and Gustav Holst. A notable and inspiring teacher, many of Zytowski's students have gone on to professional careers in music and arts management, in addition to other important fields.
As director of the UC Santa Barbara opera program, Zytowski was responsible for over 80 productions, representing a wide variety of operatic literature, including first performances of new works and performances of some rare early works. This activity connected Zytowski with the National Opera Association, where he eventually served a term as President.
In 1964, Zytowski formed a men's chamber choir, The UC Santa Barbara Schubertians, which over its 31 years established a local and then an international reputation, helping to re-popularize the male voice part-song tradition of Franz Schubert, which up to then had gone into an eclipse. The group commissioned works for men's chamber choir by such composers as Lennox Berkeley, Jacques Chailley, and Peter Racine Fricker, among others, including a few of the Schubertians. Zytowski served some years as President of the Intercollegiate Musical Council, a national association of collegiate men's choruses. In 1990, he received their Marshall Bartholomew Award.
A composer and arranger, Zytowski's work with the choruses and opera at UC Santa Barbara provided him opportunities to compose new works for special programs, and to make special arrangements and transcriptions. The Schubertians were a great resource, as was the opera workshop, to give performances of his children's and church operas.
After his retirement, Zytowski enjoyed memorable reunions of The Schubertians, especially those of 1984, 1997, 1999, and 2007, organized by his former students.
Early Years
Born on July 17, 1921, in St. Louis, Missouri, into a family of amateur musicians, Zytowski took lessons on piano, violin, and clarinet. In his teens, he wrote and sang in a musical with fellow students, graduating in 1939 from Blewett High School in St. Louis. Singing in the choir for a season with the St. Louis Grand Opera Association in 1940 gave him his first exposure to opera, with casts including some of the leading singers of the day: Ezio Pinza, Bidu Sayão, Marjorie Lawrence, and Grace Moore.
Drafted into the army in 1942, he was assigned to the Chemical Warfare Service and attached to the Army Air Corps. During training in Mississippi, he played the organ in the camp chapel for weddings, acquiring a "useful" repertoire of opening phrases from the wedding marches of Mendelssohn's Midsummer Night's Dream and Wagner's Lohengrin.
In 1943, he was sent overseas to England and was assigned to the 379th Bomb Group, flying out of Kimbolton, Bedfordshire, and soon was made clerk for the American Red Cross Field Director. His schedule allowed him to direct music (and play the organ) for the Protestant services, and he formed a quartet of fellow clerks on the base to provide music for special occasions. In 1944, the quartet won a contest for the best group in the 8th Air Force, and with the 8th Air Force Band was sent on tour of the B-17 heavy bomber bases in the eastern counties of England to promote the sale of war bonds. In June 1944, they were in London to sing on a radio program for the Armed Forces Network over the BBC, which occurred in the midst of the first German buzz bomb raids.
Released from the army in late 1945, Zytowski embarked on a serious study of music, becoming a voice major at the St. Louis Institute of Music, studying with notable baritone Bernard Ferguson. He sang as soloist and directed the choir at a Lutheran church. At that time, distinguished British conductor Dr. Stanley Chapple arrived to direct a local orchestra and chorus and formed an opera workshop, which Zytowski joined.
Chapple's early association with British composer Benjamin Britten enabled him to give the American premiere of the revised version of Britten's chamber opera, The Rape of Lucretia, in which Zytowski sang the tenor role of the Male Chorus. That, and learning some early Britten song cycles began a long association with the composer's music. In 1948, Zytowski earned his Bachelor of Music degree.
Dr. Chapple had been appointed Director of the School of Music at the University of Washington, and he offered Zytowski a Teaching Fellowship, while he double majored in voice and composition. In the meantime, some of Britten's colleagues had opened a professional school of opera in London, and, courtesy of the G.I. Bill, Zytowski spent the first six months of 1949 working with Britten's leading soprano, Joan Cross, and other eminent figures in the field studying acting, stage movement, and directing.
Returning to the University of Washington, Zytowski worked on his degree and assisted in the opera workshop while studying voice with tenor Edison Harris, a French art song exponent. As his thesis project, Zytowski prepared a chamber version of Verdi's Macbeth, writing an English performing version and a reduced orchestration. In the final production he sang the role of Macduff. He performed with local opera groups and as soloist with the Seattle Symphony in Britten's Serenade for Tenor and French Horn. He was awarded his Master of Arts degree in June 1951.
That fall, Zytowski was offered an appointment as Lecturer at a small liberal arts college in Santa Barbara, which a few years earlier had become part of the University of California system. He was soon asked to form an opera workshop, and during these early years, he began to build the men's chorus, taught a couple of promising singers, directed a local Episcopal church choir, and acted in local theatre productions.
Zytowski was soon recognized for his work and his academic position at UC Santa Barbara was secured by steady promotions of greater responsibility. He worked as a lecturer (1951-55) and then was appointed to Assistant Professor on July 1, 1955, to Associate Professor on July 1, 1960, and to Full Professor on July 1, 1965. He served as Department Chair of the Music Department in 1966-1970, Vice Chair in 1976-77, and Department Chair again from 1990-92.
Early on, the University of Washington requested that Zytowski prepare an English performing edition of Alessandro Scarlatti's 1718 comic opera, Il trionfo dell' onore, a venture which was the first of a series of opera translations he completed over the years. In 1959, he was named the winner of the UC Santa Barbara Plous Award, presented annually to an assistant professor for outstanding performance and promise as measured by creative action and contribution to the intellectual life of the college community. In response, Zytowski wrote an English performing version of Schubert's song cycle, Die schöne Müllerin, initiating a long term project of preparing song translations, many of which have been published.
In the 1950's and early 1960's, Zytowski had also worked as a stage assistant to famed opera and lieder singer, Lotte Lehmann, who taught at the Music Academy of the West in Montecito. Here he absorbed the great lieder tradition that she represented. Their working relationship continued for many decades, when Lehmann, as a guest artist, gave master classes to voice students at UC Santa Barbara.
By then, the character of Zytowski's professional life had become well established. Upon his retirement in 1994, he was given the title Professor Emeritus, but he continued to work part-time for one more year, and then he served a term as Chair of the University of California Emeriti Associations.
In 1995, Carl established an endowed graduate student fellowship in voice and collaborative piano that has supported more than twenty promising musicians. He designated a generous portion of his estate to this fellowship, which allows graduate voice and piano students an opportunity to gain valuable conservatory-style training. Because he benefitted from scholarship and fellowship support during his education, he understood that students need support, particularly in the Arts, to pursue their passions. He said "My hope is to raise awareness of the challenges students face. Charitable giving provides a way to refresh and renew students and their aspirations. It doesn't take much to make a big difference." Carl made an enormous difference. He said "The Arts help define a civilized society, and it is our responsibility to share this legacy with new generations."
We honor the memory of Carl Zytowski whose life was well lived and full of achievement. His influence on his students, friends, family, and the university is legendary. He will long be remembered. He has left behind a legacy of music, grace, and generosity.
Prepared by Rodney L. Punt
History of The Schubertians
During their 31-year history at UC Santa Barbara, the Schubertians, under their founder and director, Carl Zytowski, gave hundreds of concerts and radio and television broadcasts in this country and in eleven concert tours to Europe. Their wide-ranging repertoire embraced works from the Renaissance to the 20th century, but always centering on the part-songs for male voices written by Franz Schubert for his intimate house concerts in Vienna in the early 1800's. Over 200 undergraduate and graduate singers from a wide variety of academic disciplines have been members of The Schubertians, and have since gone on to significant careers in music, medicine, the sciences, law, teaching, arts, management, and business. Since their retirement in 1995, they have reunited occasionally to present concerts throughout California.
(1921-2018) Obituary: Professor Emeritus Carl Zytowski's lasting impact on the UC Santa Barbara Department of Music