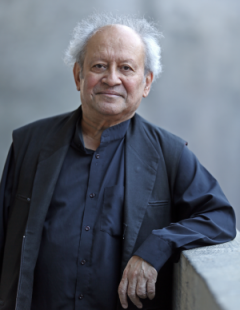 Position
Professor Emeritus, Corwin Chair of Composition
Bio
Professor Clarence Barlow was the Corwin Endowed Chair and Head of Composition at UCSB's Music Department from 2006 to 2019. Barlow's previous teaching posts included twelve years as Professor of Composition and Computer Music at the renowned biennial Summer Courses of the International Music Institute at Darmstadt (1982-1994); over twenty years at Cologne Music University (Musikhochschule) as Lecturer in Computer Music (1984-2005); four years as Artistic Director of the Institute of Sonology at The Hague's Royal Conservatoire (1990-1994); and twelve years as Professor of Composition and Sonology at the Royal Conservatoire (1994-2006). Other posts included Visiting Professor of Composition and Acoustic Art at the Folkwang University in Essen, Germany (1990-1991), Visiting Professor of Composition at the Superior School of Music and Dramatic Arts (ESMAE) in Porto, Portugal (2005-2006) and more recently Visiting Professor of Composition at the Catalonia College of Music (ESMUC) in Barcelona, Spain (2018-20).
Born and raised in what was then called Calcutta, India, Barlow wrote his first symphony at the age of 17. In 1968 he moved to Cologne, Germany where he studied composition under Bernd Alois Zimmermann (1968-1970) and Karlheinz Stockhausen (1971-1973). He was a universally acknowledged pioneer and celebrated composer in the field of electronic and computer music. He made groundbreaking advancements in interdisciplinary composition that unite mathematics, computer science, visual arts, and literature. While he was a driving force in interdisciplinary and technological advances, his music is nevertheless firmly grounded in tradition and thus incorporates much inherited from the past. His works, primarily for traditional instruments, feature a vocabulary that ranges from pretonal to tonal, nontonal, or microtonal idioms, and, further, may incorporate elements derived from non-Western cultures. Between 1959 and 2020 Barlow produced over 100 works of various types, including 4 orchestral works (2 piano concertos, and a work each for string orchestra and for large orchestra); 40 chamber works for various groups of traditional instruments, including 2 string quartets and 5 pieces for music theater; 3 choral pieces; 4 vocal works with instrumental accompaniment; 30 piano pieces (including works for two pianos); 3 organ works; 20 electroacoustic works, 3 of which fall into the category of abstract radio plays; and 5 films.
Barlow's music has been programmed on concerts far too numerous to list here. From 1968 to 2019, 53 concerts in Germany, The Netherlands, California and elsewhere were devoted entirely to his music (in Aachen, Amsterdam, Barcelona, Berne, Bratislava, Bremen, Calcutta, Cologne, Darmstadt, Dortmund, Dublin, Frankfurt, Fullerton, Graz, Hamburg, Helsinki, Karlsruhe, Kiel, Krefeld, Ljubljana, London, Los Angeles, Munich, Münster, New York City, Palma de Mallorca, Roermond, Rotterdam, Santa Barbara, Stanford, Stockholm, The Hague, Trstĕnice, Wissembourg, Yokohama and Zurich). His music has been recorded on 27 CDs and one LP, five of these devoted entirely to Barlow's music. In addition to his renown as composer, Barlow has also attained high distinction as an interdisciplinary researcher, author, and software developer. His publications include a number of books, one of which is an extensive study on tonality and metricism, Bus Journey to Parametron (1980) and another, On Musiquantics (1986-2008), a textbook on the relation between music and mathematics, acoustics, phonetics, computer science and Barlow's own methods to quantify tonality and metricism. Additional publications are the software that Barlow has written as aids for composing and notating music. These include the notation program ЖSC (1972-1976), Synthrumentator (1984-2013) for converting speech into performable scores, Autobusk (1986-2001), a real-time modal and metric pitch and rhythm generator, and Tupletizer (1998-2005) for notating irrational rhythms for manual performance. Most recently, Barlow had been working on a joint project to translate and publish the entirety of Bhatkhande's Kramik Pustak Malika containing over 1900 compositions of Indian Classical Music to Western Staff notation. He succumbed in Barcelona on 28 June 2023 from complications of a fall. He is survived by his wife, the artist Birgit Faustmann.