Alvise Pascucci, DMA piano student awarded 1st Prize and Dr. Alan Walker Special Prize at the Los Angeles International Liszt Competition
Alvise Pascucci, DMA piano student awarded 1st Prize and Dr. Alan Walker Special Prize at the Los Angeles International Liszt Competition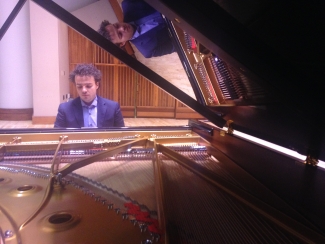 Italian pianist Alvise Pascucci has been defined by music critics as an outstanding young pianist who possesses a virtuoso technique as well as musicianship of a high order.
Alvise Pascucci has been awarded First Prize in the Budapest Recital Division of the 2022 Los Angeles International Liszt Competition, complimented by the Dr. Alan Walker Special Prize. First prize in the Budapest Recital division offers Alvise a solo recital of the music of Liszt at the prestigious Liszt Ferenc Museum and Research Center, in Budapest, Hungary in May 2023 and $2,000. The recital will take place in the same hall where Liszt taught his students. In addition to this extraordinary experience, Alvise has been awarded the Dr. Alan Walker Special Prize of $1,000.
In June, 2022 Alvise also won the "Franz Liszt Great Master Award" in the "Franz Liszt Center 2nd Online International Competition" and has now been asked to be one of the adjudicators for this year's online competition, which he is about to embark on, listening to hundreds of submissions (the 2022 competition had 448 entries).
Alvise Pascucci is working towards his DMA at UC Santa Barbara with Paul Berkowitz, where he has been awarded the prestigious Chancellor's Fellowship. Alvise will be performing this week in a special masterclass with distinguished pianist Emmanuel Ax on Thursday, January 26 at 4 pm in Geiringer Hall, UCSB.
Congratulations to Alvise on this esteemed award of 1st Prize and the Dr. Alan Walker Special Prize in the International Liszt Competition.