Chamber music mentorship and residencies for string faculty members Jennifer Kloetzel and Ertan Torgul
Chamber music mentorship and residencies for string faculty members Jennifer Kloetzel and Ertan Torgul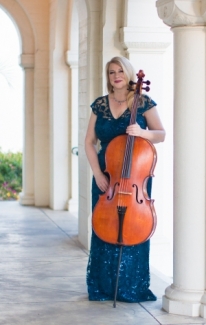 Professor Jennifer Kloetzel and Lecturer Ertan Torgul had a few months full of performances, master classes, chamber music coachings, and educational workshops. As founding members of QuartetES (quartetes.com), Kloetzel and Torgul traveled to Lake Dunmore, Vermont for a two-week residency at Point Counterpoint, working closely with young chamber musicians, giving private lessons, coachings, and performances with colleagues violinist Anton Miller and violist Rita Porfiris. The quartet also traveled to Rock Island, Tennessee for a week-long residency at Bach at the Rock (BATR) chamber music workshop. Created for recent college graduates and young professionals pursuing careers in chamber music, BATR provides much-needed opportunities and resources for young professionals through mentoring and performance opportunities. QuartetES performed for the workshop fellows and local Tennessee audiences as the final event of the week.
Kloetzel and Torgul joined their QuartetES colleagues for a residency at the Hartt School at the University of Hartford in early September. The time at Hartt included a Composer's Seminar, "The Commissioning Performer/Contemporary String Techniques," as well as violin, cello, and chamber music masterclasses taught by Kloetzel and Torgul. The residency culminated with a faculty recital featuring QuartetES and soprano Deborah Lifton.
Music performed at these venues included the world premiere of Elena Ruehr's Quartet No. 8 "Insect Dances;" Daniel Bernard Roumain's Quartet No. 5 "Rosa Parks;" selections from Errollyn Wallen's "Are You Worried About the Rising Cost of Funerals?" for soprano and string quartet; Ludwig van Beethoven's "Razumovsky" Quartet Op. 59 No 2; and Dmitri Shostakovich's Quartet No. 8.
A graduate of The Juilliard School and a Fulbright Scholar, Jennifer Kloetzel has concertized throughout the United States, Europe, and Asia as a soloist and chamber musician. A founding member of the San Francisco-based Cypress String Quartet (1996-2016), she has toured the globe and performed at such renowned venues as Lincoln Center, the Kennedy Center for the Performing Arts, the Chautauqua Institute, and the Ravinia Festival.
Turkish-American violinist Ertan Torgul has been a member of the award-winning SOLI Chamber Ensemble since 1996 and has served as its Managing/Artistic Director from 2011 until recently. He was in-residence at the Ojai Festival, Mainly Mozart, Point Counterpoint, and the Internationale Quartett akademie Prag-Wien-Budapest, and was the recipient of Austria's prestigious Prix Mercure, a prize winner in the Fischoff Chamber Music Competition, and a laureate of the Paolo Borciani International Quartet Competition.