Professor Jennifer Kloetzel featured in second interview for Creative Peacemeal Podcast
Professor Jennifer Kloetzel featured in second interview for Creative Peacemeal Podcast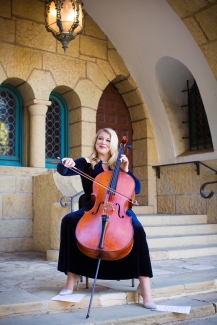 Professor Jennifer Kloetzel was featured on September 13 on the Houston-based arts podcast, Creative Peacemeal, which marked her second appearance for the series this year. Following Kloetzel's initial interview with Board Certified-Music and Neurologic Music Therapist and educator Tammy Takaishi in late March 2021, which focused on Kloetzel's career as a performer and educator, Takaishi was eager to continue the conversation and promptly scheduled Kloetzel for a second interview.
Released on September 13, this second interview covered a wide range of topics including Kloetzel's upcoming Beethoven CD release and her Bach commissioning project, the importance of live concerts and special relationship between an audience and a performer, how to curate a concert program, following creative impulses, managing stage fright and much more. Listen to the full podcast, "Jennifer Kloetzel, Cellist Part 2," on the Creative Peacemeal website.
Creative Peacemeal regularly features creatives from a wide range of fields, including writing, art, film, lifestyle, culinary, and music. Past musical guests have included violinist Tracy Silverman and composer Jennifer Higdon. Find the latest episodes on the Creative Peacemeal website.
A graduate of The Juilliard School and a Fulbright Scholar, Kloetzel has concertized throughout the United States, Europe, and Asia as a soloist and chamber musician. A founding member of the San Francisco-based Cypress String Quartet (1996-2016), she has toured the globe and performed at such renowned venues as Lincoln Center, the Kennedy Center for the Performing Arts, the Chautauqua Institute and the Ravinia Festival, the Lobkowicz Palaces in both Vienna and Prague, as well as prominent colleges and conservatories worldwide. Kloetzel currently serves as Area Head of the Strings Program at UC Santa Barbara.
Photo by Michelle Lee Photography