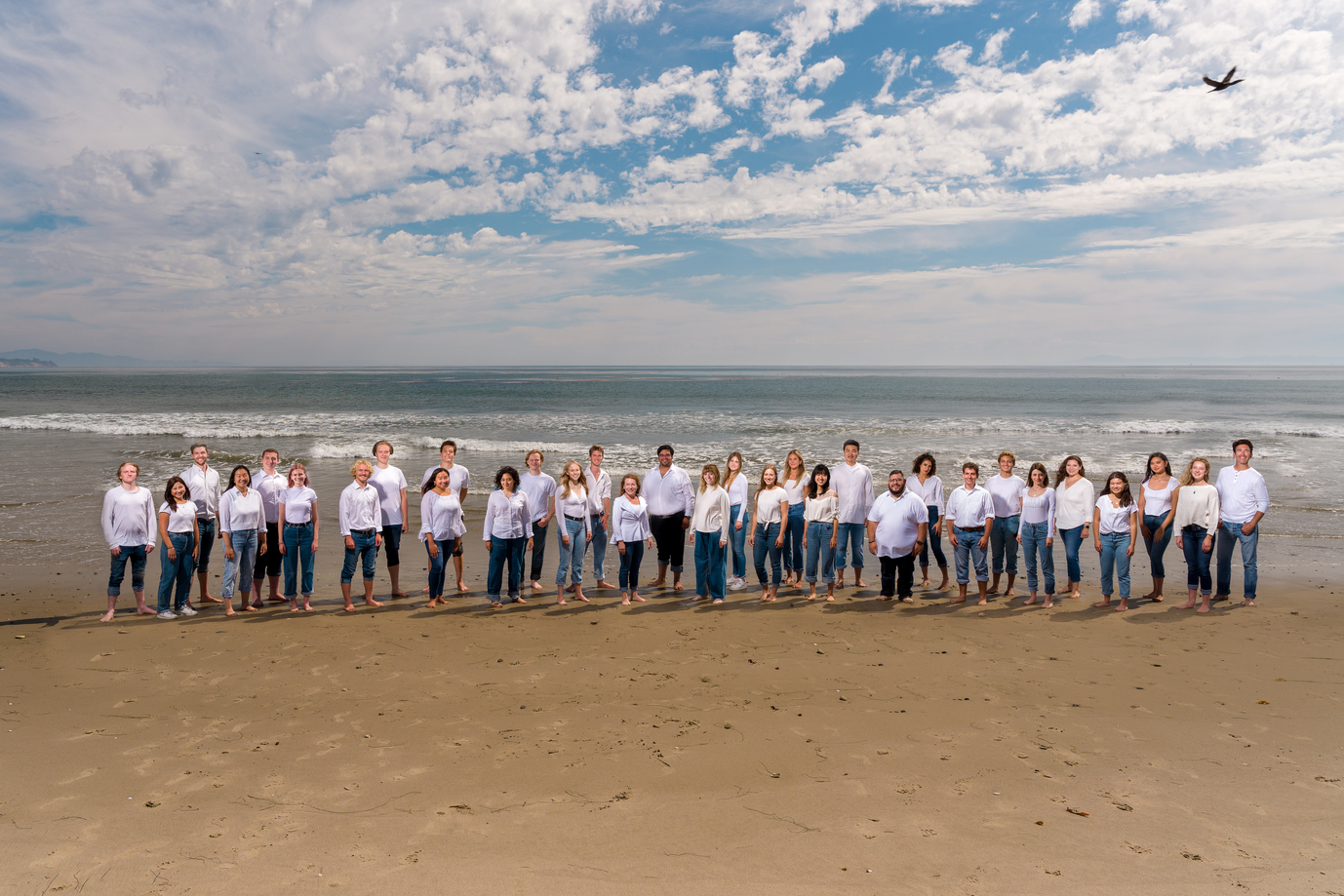 Course Information
MUS A 36, 136, 236
Conductor: Dr. Nicole Lamartine, Sorensen Director of Choral Music
Rehearsals: Mondays and Wednesdays 12-1:50 pm in Karl Geiringer Hall
Are you inspired to be part of the excellence?
The UCSB Chamber Choir is the flagship choral ensemble at UCSB, representing excellence in vocal talent, musicianship, and professionalism. This SATB ensemble focuses on innovative programming including premieres and commissions to inspire a concert experience of exploration and intention. The Chamber Choir enjoys collaborations with professional music organizations throughout the area.
HOW TO AUDITION for Chamber Choir:
STEP 1: Fill out this Form
STEP 2: Go to the Signup Genius link at the end of the Audition Form to choose your audition appointment
Tuesday, 9/21 2-5pm Geiringer
Wednesday, 9/22 10-2pm Room 1219
FORMAT: UCSB Chamber Choir Audition
** Auditions will take place with Dr. La and three graduate choral conducting students
Sing a prepared piece from memory, a cappella. Art song, folk songs, legit musical theatre, and hymn tunes are appropriate.
Vocalizations to determine voice quality and range
Musical Skills: rhythmic and melodic sightreading
CALLBACKS for Chamber Choir: Friday, Sept. 24 12-1:50pm Geiringer Hall
The audition excerpt will be emailed to the callback list by noon on Thursday, 9/23
Each student will learn and sing their assigned part.
There may be other elements such as foreign language pronunciation, musical analysis, or vocalization.
Demonstrate your best selves in accuracy, musicianship, and professionalism.
Schedule for Callbacks:
12:00-12:20 Basses only
12:20-12:40 Tenors only
12:40-1:00 Altos only
1:00-1:20 Sopranos only
1:20 ALL SINGERS (prepared piece and other ensemble exercises)
Other Important Information:
Results: emailed by 5pm Friday, 9/24
First Rehearsal: Monday, Sept. 27, 12pm in Geiringer Hall
Selection into the ensemble is based on vocal talent, musical skills, and attitude/commitment/enthusiasm.
Required Chamber Choir retreat: Sunday, Oct. 10, 5-9pm
Commitment to the ensemble is for the full academic year.
Please reach out with any questions you may have. I look forward to seeing you in September!