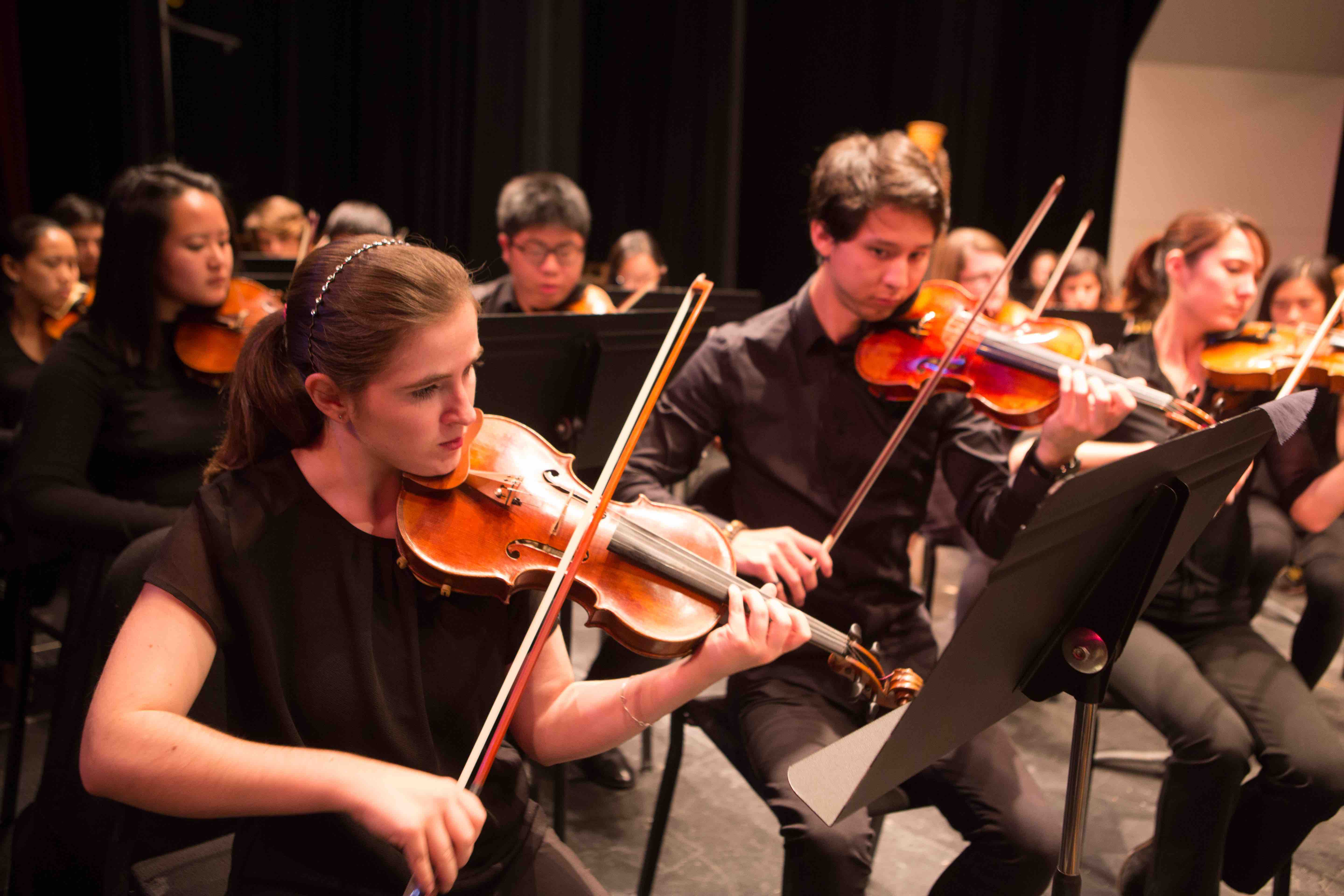 Course Information
Course Numbers: MUS A 42, A 142, A 242
Director: Maxim Kuzin
Teaching Assistant: Sogol Aliabadi
Class time: Mondays 7-9:30 pm
Class location: Lotte Lehmann Concert Hall
Course Description
The UC Santa Barbara Orchestra presents classics and contemporary favorites from the orchestra repertoire. The ensemble presents three concerts per year, one per quarter, and is open to majors, non-majors, and community members. Membership is determined by audition.
Auditions
We invite you to join the ensemble in 2022/23 for a year of exciting live music-making! UCSB Orchestra has auditions in the fall for the entire year. Those who are enrolled in the orchestra in the fall do not have to re-audition in the winter or spring quarters to continue playing in the orchestra.
For winter and spring quarters, new players (both majors and non-majors) schedule an audition upon request to participate in the orchestra. Audition is mandatory for all orchestra players.
All majors and non-majors admitted to the orchestra can re-enroll during the year unless there is a music director or instrumental studio teacher's concern (in which case the situation can be discussed with the music director, studio teacher, and the student).
Please note that in the winter and spring quarters, non-major students can be substituted with stronger major or non-major new players who schedule and pass an audition.
Winter 2023 Audition Information
Auditions will be 10-12 minutes long and will include a performance of a solo piece and an orchestral excerpt(s). A few measures of sightreading on your instrument can be requested.
The Chamber Orchestra audition for the Winter/Spring 2023 can be scheduled upon request by emailing Dr. Maxim Kuzin, the Orchestra Music Director, at maximkuzin9@gmail.com or mkuzin@ucsb.edu. Please download the audition requirements and excerpts for your instruments below.
Materials for Fall 2022 Audition: https://drive.google.com/drive/folders/16-a4GG9VAHbJnpjjOySDkEU72E8ra7N8?usp=sharing
To enroll in the course, you have to complete the following steps:
1. Before your audition, complete an online questionnaire at the link below (required):
https://docs.google.com/forms/d/e/1FAIpQLSd2wPujyoCzjtxeu_qr3hoKCwPMbTixHmiZ
qxM4AaufTzwsjg/viewform

2. Sign up for an audition by emailing Dr. Maxim Kuzin, the orchestra Music Director, at maximkuzin9@gmail.com or mkuzin@ucsb.edu mentioning your major, student status, and instrument. In your email, please specify the available audition day(s)/time(s) options for you for me to choose from. Available audition days/times for Winter 2023:
-- In-person - Monday, 1/9 after the rehearsal at around 9:30 PM
-- On Zoom - Agreed time during Week 1

We are looking forward to seeing you in the UCSB Orchestra for exciting live music-making!
Winter 2023 UCSB Chamber Orchestra Repertoire

Strauss, Johann, Jr. (1825-1899)
Die Fledermaus: Overture <1847>
https://www.youtube.com/watch?v=H2lrKuZKV-Q
*********
Bizet, Georges (1838-1875)
Jeux d'enfants, op.22: Petite suite <1871>
https://www.youtube.com/watch?v=AABsvKMCaQU
****
Vaughan Williams, Ralph (1872-1958)
The Wasps: Overture <1909>
https://www.youtube.com/watch?v=thFS5JJD9l0
Fall 2022 UCSB Chamber Orchestra Repertoire