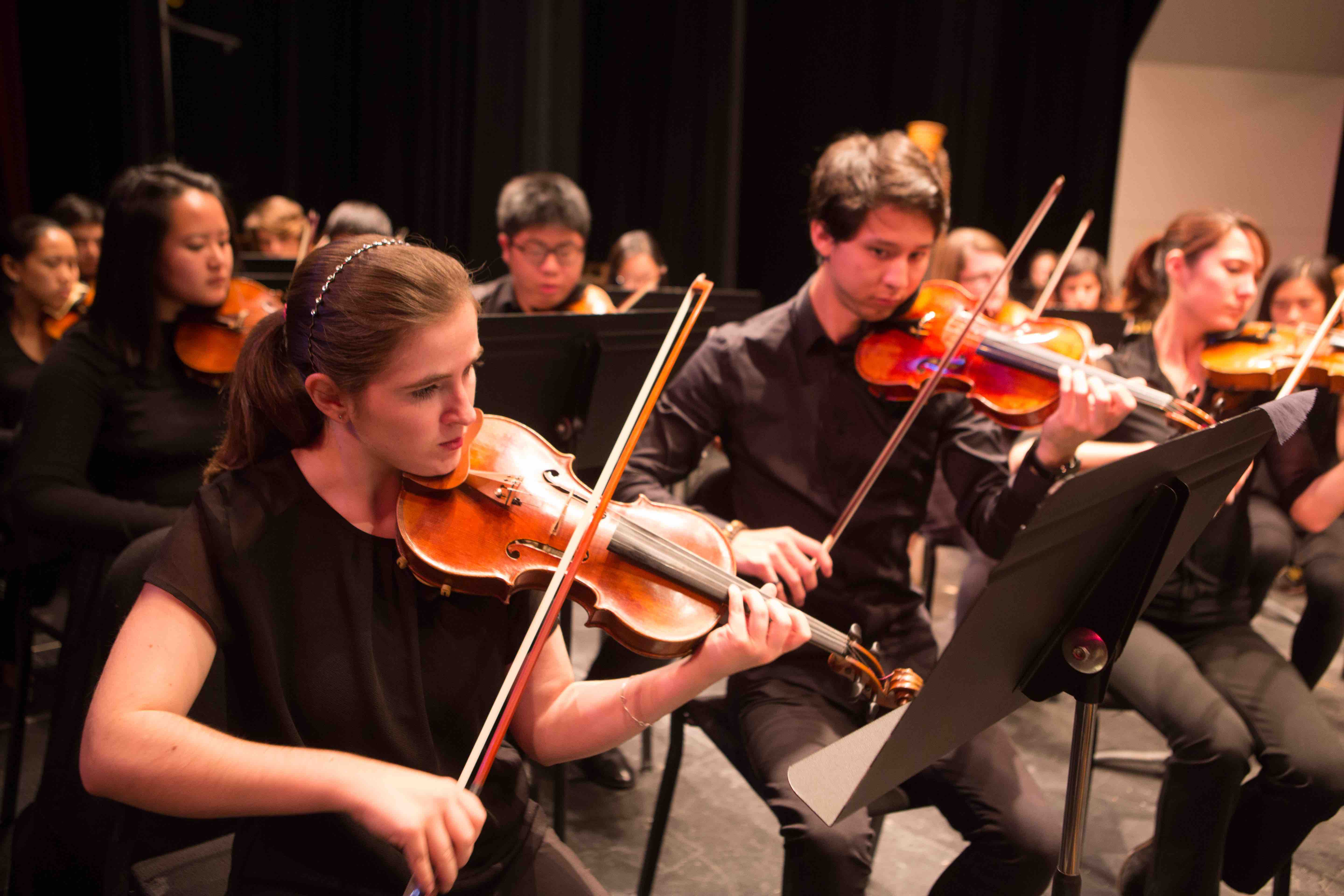 Course Information
Course Numbers: MUS A 42, A 142, A 242
Director: Maxim Kuzin
Teaching Assistant: TBA
Class time: Mondays 7-9:30 pm
Class location: Lotte Lehmann Concert Hall
Course Description
The UC Santa Barbara Orchestra presents classics and contemporary favorites from the orchestra repertoire. The ensemble presents three concerts per year, one per quarter, and is open to majors, non-majors, and community members. Membership is determined by audition.
Auditions
The UCSB Orchestra is holding auditions for the upcoming 2023-24 academic year. Students who successfully audition and enroll in the Fall 2023 quarter will not require additional auditions for the subsequent winter and spring quarters. New participants for the winter and spring quarters will be subject to audition procedures. All members can re-enroll throughout the year.
Fall 2023 Audition Details
Duration: Auditions are set for a duration of 10 minutes.
Components: The audition will consist of a solo performance and selected orchestral excerpts. Sightreading segments may be incorporated as deemed necessary.
Date: The primary audition session is slated for Friday, September 29th, with the potential addition of Saturday, September 30th if required.
Venue: Lotte Lehmann Concert Hall (unless an alternative space is communicated additionally).
Audition Materials: Please access and download the necessary audition materials and instrument-specific excerpts:
https://drive.google.com/drive/folders/1tf0ZEzPtqg_spQsnHYY_pHfoIqUyUsCh?usp=sharing
Fall Repertoire & Rehearsal Information: Details pertaining to the fall orchestra repertoire and rehearsal schedule will be made available in due course. Regularly refer to this page for updates.
Audition Sign-Up: https://www.signupgenius.com/go/4090A48ACAE2DA5F58-fall3
Enrollment Process for Fall 2023
Prior to your audition, fill out the online questionnaire at the link below: https://forms.gle/yx4pMzssH2GyZ66x9
Schedule your audition using the link below: https://www.signupgenius.com/go/4090A48ACAE2DA5F58-fall3
Ensure you are adequately prepared and attend the audition at your scheduled time.
Successful candidates will receive an email confirmation. Following this, come to the first UCSB Chamber Orchestra rehearsal at 7 PM on Monday, October 2 at the Lotte Lehmann Concert Hall.
The repertoire for Fall 2023 will be posted here by the beginning of the Fall Quarter.
The UCSB Chamber Orchestra looks forward to welcoming new talents to our ensemble and anticipates a successful year of fun music-making together!