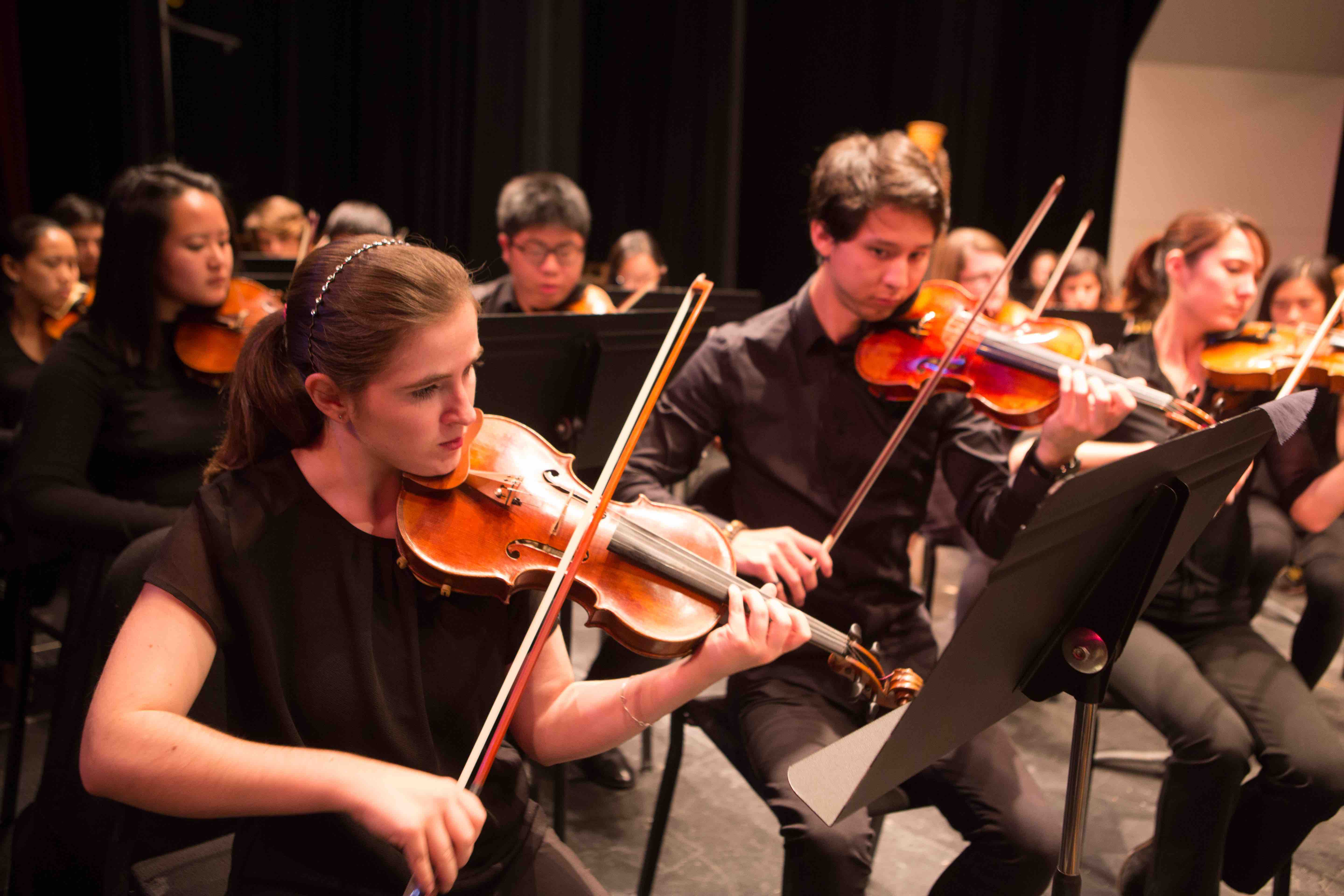 Course Information
Course Numbers: MUS A 42, A 142, A 242
Director: Maxim Kuzin
Teaching Assistant: TBA
Class time: Mondays 7-9:30 pm
Class location: Lotte Lehmann Concert Hall
Course Description
The UC Santa Barbara Orchestra presents classics and contemporary favorites from the orchestra repertoire. The ensemble presents three concerts per year, one per each quarter, and is open to majors, non-majors, and community members. Membership is determined by audition.
Auditions
We invite you to join the ensemble in Fall 2022 for a year of exciting live music-making! UCSB Orchestra has auditions in the fall for the entire year. Those who are enrolled in the orchestra in the fall do not have to re-audition in the winter or spring quarters to continue playing in the orchestra.

For winter and spring quarters, new players (both majors and non-majors) can schedule an audition upon request.

All majors and non-majors admitted to the orchestra can re-enroll during the year unless there is a music director's or instrumental studio teacher's concern (in which case the situation can be discussed with the music director, studio teacher, and the student).

Please note that in the winter and spring quarters, non-major students can be substituted with stronger major or non-major new players who schedule and pass an audition.
Fall 2022 Audition Information
Auditions will be 10-12 minutes long and will include a performance of a solopiece and an orchestral excerpt(s). A few measures of sightreading on your instrument can be requested.
Chamber Orchestra auditions will be held on Saturday, September 24, 2022, at the Lotte Lehmann Concert Hall. Please download the audition requirements and excerpts for your instruments below.
Materials for Fall 2022 Audition: https://drive.google.com/drive/folders/16-a4GG9VAHbJnpjjOySDkEU72E8ra7N8?usp=sharing
The fall orchestra repertoire and rehearsal details will be announced soon. Please check this page for more information. The audition sign-up link will be posted soon. Please check back regularly to sign up for your desired time slot.

In order to enroll in the course, you have to complete the following steps:
1. Before your audition, complete an online questionnaire at the link below (required):
https://docs.google.com/forms/d/e/1FAIpQLSd2wPujyoCzjtxeu_qr3hoKCwPMbTixHmiZqxM4AaufTzwsjg/viewform
2. Sign up for an audition slot on SignUpGenius at the link below:
https://www.signupgenius.com/go/4090A48ACAE2DA5F58-fall2
3. Prepare for and pass the audition at a scheduled time.
4. Upon receipt of the successful audition result via email, show up to the first UCSB Orchestra rehearsal at 7 PM at Lotte Lehmann Concert Hall on Monday, September 25, 2022.
We are looking forward to seeing you in the UCSB Orchestra in the fall for a year of exciting live music-making!
Fall 2022 UCSB Chamber Orchestra Repertoire