Hugo Macario (1965-2021)
Hugo Macario (1965-2021)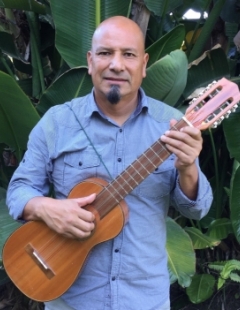 Position
Lecturer Emeritus, Ethnomusicology Program
Specialization
Ethnomusicology Program
Son Jarocho Ensemble
Bio
Hugo Macario was born and raised in Mexico. He started playing traditional music from Latin America from an early age. He toured the USA with the band Quetzalcoatl, playing traditional music from Mexico, Cuba and Venezuela. Some venues included: Mariachi Festival USA Hollywood Bowl, Half time entertainment at the Soccer game USA vs. Mexico national teams at the Rose Bowl, UCSB Campbell Hall, UCLA Wadsworth Theater, and Strawberry Music Festival at Tuolumne CA. In addition, Hugo was a part of the Music Center on Tour School Assemblies program, introducing young audiences in the Los Angeles area to traditional music from Latin America. Hugo also directed his own band, Ensambe Vientos Del Sur, and produced 3 CD recordings.
(August 15, 1965-May 9, 2021)
Read the Department of Music's tribute to Hugo Macario.