Doctoral Student Raphael Radna named winner of The Sunbeam Project Composition Competition, premiers new piece Fantasy, for flute and electronics
Doctoral Student Raphael Radna named winner of The Sunbeam Project Composition Competition, premiers new piece Fantasy, for flute and electronics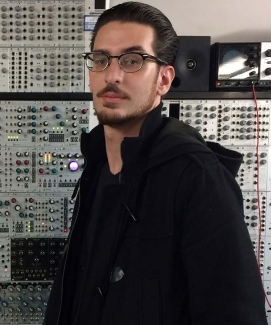 Doctoral Student Raphael Radna was named one of three winners in The Sunbeam Project Composition Competition for his piece, Fantasy, for flute and electronics. Organized by flutist Antonina Styczeń, The Sunbeam Project is funded by the National Flute Association Young Artist Competition Career Enhancement Grant 2019. The award consists of a stipend, a professional audio/video recording, and a live performance of the piece.
"The Sunbeam Project is an answer to the reality of the COVID-19 changes in the artistic community," shares flutist Antonina Styczeń on her website. "Many composers were deprived of the chance to have their works be performed and recorded thanks to the quarantine and pandemic restrictions. In 2019 I was lucky to win the National Flute Association Young Artist Competition and today, thanks to the generous grant received from the competition, I wanted to share an opportunity this created with fellow composers and musicians from the great state of California."
Composed at the height of the COVID-19 pandemic, Fantasy realizes an imagined performance in which a flutist in isolation is transported to an otherworldly concert stage. She begins alone, developing a simple motive in an improvisational style. As the initial phrases coalesce into a musical stream, the acoustic space begins to transform and then respond. Gradually, an ensemble emerges from within the timbre of the flute and engages her in a phantasmagorical counterpoint, culminating in a powerful cadenza. The title of the work refers both to its form and this guiding narrative.
Styczeń and Radna premiered Fantasy on October 28, 2022 at the Southwestern College Performing Arts Center in Chula Vista, CA, on a program that also featured works by Berglind Tómasdóttir, Jane Rigler, and Julia Wolfe. More information about the concert is available from the National Flute Association website.
Radna is currently pursuing a PhD in Music Composition at UC Santa Barbara, and holds an MFA in Electronic Music and Recording Media from Mills College. A composer specializing in mixed electroacoustic music and computer-assisted composition, he has presented his music and research worldwide in such venues as the International Computer Music Conference, the SEAMUS National Conference, and the Visiones Sonoras International Festival of Music and New Technologies; and has collaborated with leading artists including Shanna Pranaitis, HOCKET, and the Isaura String Quartet. His music technology work includes the Space Control spatialization software authored with Corwin Chair of Composition João Pedro Oliveira, and projects for prominent developers Arturia and Cycling '74.