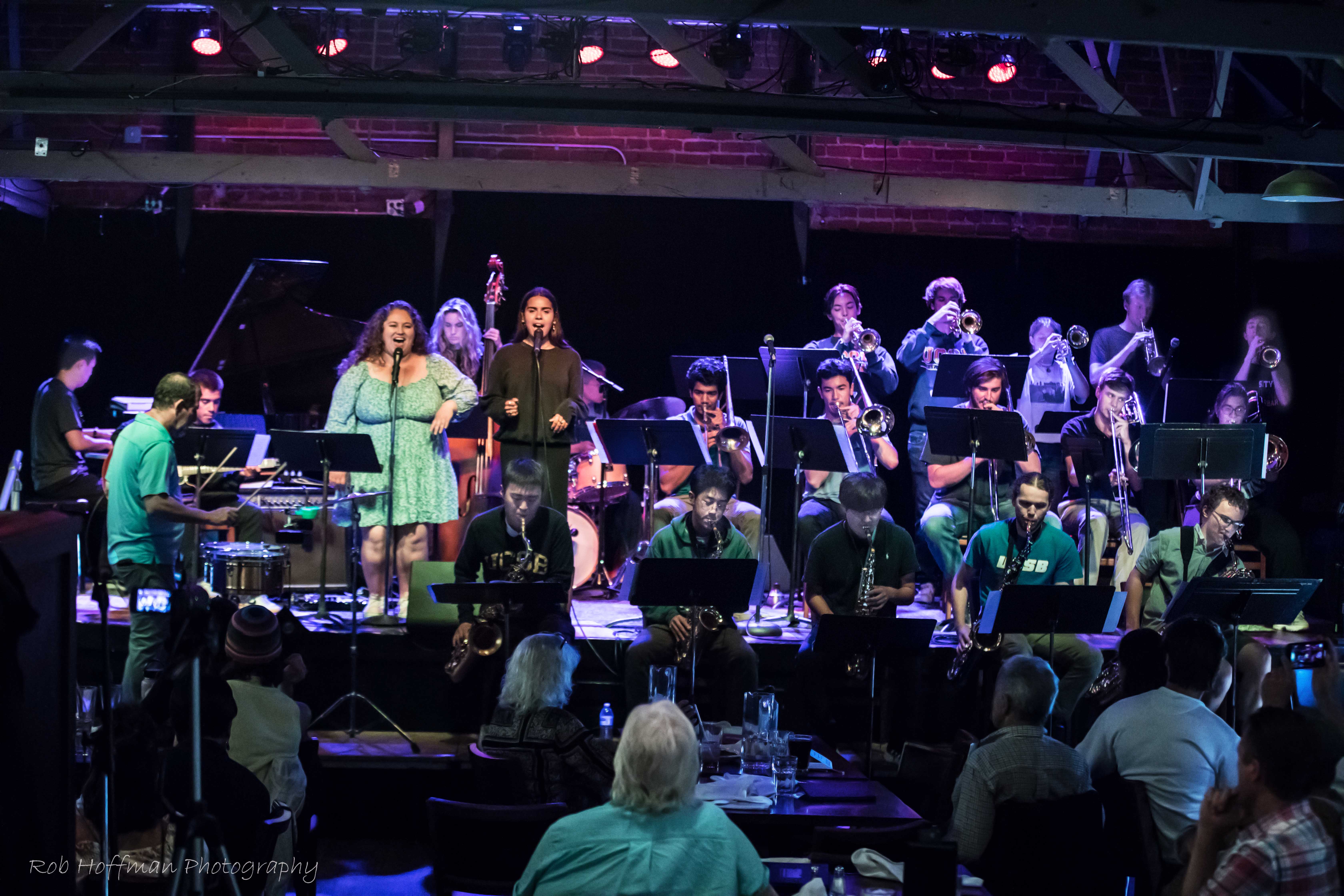 Members of the UCSB Jazz Ensemble
Photo Credit: Rob Hoffman
The UCSB Jazz Ensemble features instruction, rehearsal and performance in both large and small ensembles, including combos, medium sized bands (6-8 horns and rhythm section ), and standard and extended big band (5 saxes, 4-5 trumpets, 3-5 trombones, piano, guitar, bass, drums, percussion, and added woodwinds and brass). Generally the Fall quarters will include the most opportunities for jazz performance at UCSB, where traditionally we offer a "Jazz Lab" section that invites less experienced musicians to learn about jazz theory/improvisation, small group performance techniques and expectations, and basically offers the building blocks of information and experience for anyone to succeed as a jazz improvisor/performer.

In the 2021-22 academic year, the UCSB Jazz Ensemble and Combos performed extensively on campus and in the Santa Barbara area. These included performances in the UCEN Hub, at SOHO Music Club for the Santa Barbara Jazz Ensemble, in the Music Department's Music Bowl, and presented three official quarterly concerts in Lotte Lehmann concert hall, one of which was dedicated to the music and memory of Armando "Chick" Corea, the important pianist and composer who passed away in the Spring of 2021. Performing this music is the point of learning it, and we intend to perform as much as is possible in the coming academic year.
Fall, 2022 Audition Information
Potential students should submit the following forms ASAP: be advised that much jazz ensemble placement is done BEFORE the beginning of each quarter. DO NOT wait until the first class meeting to submit information, intention/interest in playing, or to audition for the ensemble. There are two such google forms to fill out - the first more general than the second:
https://forms.gle/cTXbQdeQAvRPQqHW7
https://forms.gle/8wLEBHvgNZ9pgdSZA
Materials for Fall 2022 auditions can be found here:
https://drive.google.com/drive/folders/108pShwCVHVwb68Ua1mmagkeiR-sTf31m?usp=sharing
Auditions for the UCSB Jazz Ensemble (Big Band AND combos) will consist of:
Learning/performing a part from an arrangement/composition to be performed during the coming year.
Sight reading of a part from standard jazz ensemble/big band repertoire.
*Optional improvisation (Blues or other jazz standard)
Pianists and guitarists should expect to be able to sight read and prepare both written chords and written parts.
Bassists should expect to both read written parts and chords and to be able to create bass lines from chord symbols
Drummers should be able to learn and read parts from standard big band repertory as well as demonstrate stylistic knowledge typical for standard big band/combo performance. Drummers should also demonstrate solo ability in rock and swing styles as well as the ability to trade 4's (4 bars time, 4 bars solo)
*Audition for combos will generally consist of the above with special attention paid to improvisational experience and ability. As such, item #3 above will NOT be optional for those seeking combo placement.

Audition materials will be made available with a link here or by email by September 1, 2022. If you have any questions about the ensemble please contact ensemble director Jon Nathan by email at jazzjon@ucsb.edu.

We look forward to working with you!