Alumna Noelle Barr '21 appointed Principal Violin for New York Youth Symphony's 2021-2022 Season
Alumna Noelle Barr '21 appointed Principal Violin for New York Youth Symphony's 2021-2022 Season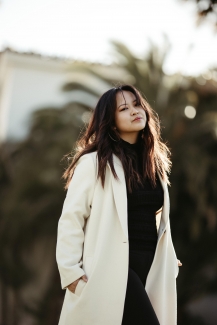 UC Santa Barbara alumna Noelle Barr '21 was recently appointed as Assistant Principal Second Violin for the New York Youth Symphony's 2021-2022 Season, the organization's 59th Season.
Under the direction of Michael Repper, Barr will participate in a series of three performances throughout the 2021-2022 academic year, in November, March, and May, at Carnegie Hall. Repertoire will include Pyotr Ilyich Tchaikovsky's Symphony No. 5; Valerie Coleman's Umoja; Samuel Barber's Violin Concerto (featuring violinist Grace Park); and Johannes Brahms' Symphony No. 2. As a scholarship recipient, Barr's responsibilities will also include mentoring musicians within her section, participation in community outreach activities, and performing new works by students of the New York Youth Symphony's Composition Program at the annual Orchestration Reading Workshop and Composition Date Concert.
Founded in 1963 as an orchestra to showcase the metropolitan area's most gifted musicians ages 12-22, the New York Youth Symphony's activities have since grown to encompass programs in chamber music, conducting, composition, jazz, and musical theater songwriting with performances at world class venues including Carnegie Hall and Jazz at Lincoln Center. Through its commissioning program, First Music, the NYYS has commissioned over 170 works from young composers since 1984. Recent orchestra highlights include its first-ever tour to Spain (June 2019), an appearance on CBS Sunday Morning, and an appearance on Jimmy Kimmel Live! performing with Misty Copeland.
Barr graduated in June 2021 from UC Santa Barbara with a double major in Music and the History of Art. She started playing the violin at the age of 9 in a public school program. After participating in the local community orchestra throughout elementary and middle school, she became a member of the Claremont Young Musicians Orchestra (CYMO), where she was exposed to an expansive list of symphonic repertoire, coachings led by musicians of the Los Angeles Philharmonic, and a rehearsal with Gustavo Dudamel in 2015. Since continuing her violin studies as a double major at UC Santa Barbara, she has participated in the Department of Music's chamber ensembles as a student of Lecturer Ertan Torgul. She also participated in masterclasses with members of the Danish String Quartet in 2019 and Sheryl Staples of the New York Philharmonic in 2020. Barr began pursuing an M.A. at New York University's Institute of Fine Arts in the Fall of 2021.
Photo by Zach Mendez