Alumnus Vincent E. Rone '14 joins faculty of Franciscan University of Steubenville and publishes new book, Mythopoeic Narrative in The Legend of Zelda
Alumnus Vincent E. Rone '14 joins faculty of Franciscan University of Steubenville and publishes new book, Mythopoeic Narrative in The Legend of Zelda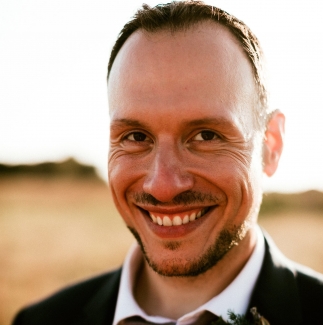 Media Contact
Adriane Cleary
Marketing and Communications Manager
UC Santa Barbara musicology alumnus Vincent E. Rone '14 recently joined the faculty of Franciscan University of Steubenville in Ohio, where he teaches courses in music history and music theory. In the Spring of 2020, Vincent and his colleague Anthony Cirilla co-edited the anthology Mythopoeic Narrative in The Legend of Zelda, published by Routledge. Vincent also contributed a chapter in which he discusses the significance of nostalgia within the music of the game franchise.
Rone and Cirilla write of the anthology: "The Legend of Zelda series is one of the most popular and recognizable examples in videogames of what Tolkien referred to as mythopoeia, or myth-making. In his essay On Fairy Stories and a short poem entitled Mythopoeia, Tolkien makes the case that the fairy tale aesthetic is simply a more intimate version of the same principle underlying the great myths: the human desire to make meaning out of the world. By using mythopoeia as a touchstone concept, the essays in this volume explore how The Legend of Zelda series turns the avatar, through which the player interacts with the in-game world, into a player-character symbiote wherein the individual both enacts and observes the process of integrating worldbuilding with storytelling. Twelve essays explore Zelda's mythmaking from the standpoints of literary criticism, videogame theory, musicology, ecocriticism, pedagogy, and more."
Contributing to the Mythopoeic Narrative in The Legend of Zelda also led Vincent to spearhead a collaborative project of scholarly essays dedicated to nostalgia and videogame music, forthcoming by Intellect Books.
Learn more about the Mythopoeic Narrative in The Legend of Zelda here.
Vincent earned a PhD in musicology from UC Santa Barbara in 2014, where he studied with Dave Paul, Stefanie Tcharos, and his dissertation adviser Derek Katz. Since then he has taught at universities in New Jersey, Virginia, and now Franciscan University of Steubenville in Ohio. Vincent and his wife Susan live in Pittsburgh, PA, where he works as Director of Music and organist at Archangel Gabriel Parish comprising three Catholic churches.
Vincent's research interests lie in music of religious resistance and protest in 1960s Catholic France, his dissertation topic. He lived in Paris under a Borchard Fellowship, which allowed him to complete his research. His work in this area has been published by The Journal of Musicological Research, The Church Music Association of America, and The American Organist. Since then, Vincent has broadened his interests to include nineteenth-century harmonic traditions depicting the natural and supernatural within film and videogame music. His work on the music of The Lord of the Rings film trilogy is published in The Journal of Music and the Moving Image, while his work on the Legend of Zelda videogame has appeared on the Ludomusicology Research Group and the newly launched Journal of Sound and Music in Games.