Assistant Professor of Cello Jennifer Kloetzel featured on Performance Today Radio Program and Gold Coast Chamber Players Series
Assistant Professor of Cello Jennifer Kloetzel featured on Performance Today Radio Program and Gold Coast Chamber Players Series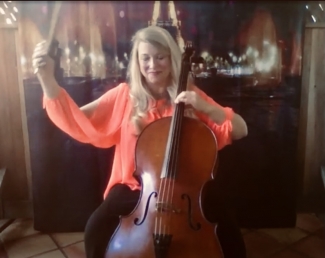 Media Contact
Adriane Cleary
Marketing and Communications Manager
UC Santa Barbara Assistant Professor of Cello Jennifer Kloetzel was featured on the Performance Today radio program on Monday, September 28, 2020. Hosted by Fred Child, Performance Today is one of the most popular classical music radio programs in the country, broadcast on over 280 public radio stations with roughly 1.2 million listeners each week.
The September 28th program featured a recording of the first movement of Kloetzel's solo performance of Antonín Dvořák's Cello Concerto in B minor, Op. 104, B.191 with the Lexington Symphony, conducted by Jonathan McPhee. The concert was originally presented at Cary Memorial Hall in Lexington, MA on Saturday, February 15, 2020.
The program also included recordings of music by Wolfgang Amadeus Mozart, Karen Linford, Jennifer Higdon, Frank Bridge, and Albert Roussel performed by ensembles such as iSing Silicon Valley, The Orchestra Now, and the Tetzlaff Quartet.
Listen to Kloetzel's recording during Hour 2 of the show here.
Kloetzel also performed a virtual concert presented by the Gold Coast Chamber Players on their Bach Shorts series on Sunday, October 11, 2020 at 4 pm PST. Kloetzel's program was titled "Bach Inspired," exploring 300 years of inspiration. The concert included a performance of Johann Sebastian Bach's Suite No. 1 in G major, BWV 1007 for solo cello, an arrangement by Peter Wilson titled Bach to the Beatles, the Bach-Wilson Serenata (listen here), and the world premiere of composer Elena Ruehr's Cricket the Fiddler (2020), which was inspired by Bach's Suite No. 1. The performance was live-streamed via YouTube.
A graduate of The Juilliard School and a Fulbright Scholar, Kloetzel has concertized throughout the United States, Europe, and Asia as a soloist and chamber musician. A founding member of the San Francisco-based Cypress String Quartet (1996-2016), she has toured the globe and performed at such renowned venues as Lincoln Center, the Kennedy Center for the Performing Arts, the Chautauqua Institute and the Ravinia Festival, the Lobkowicz Palaces in both Vienna and Prague, as well as prominent colleges and conservatories worldwide. Kloetzel currently serves as Area Head of the Strings Program at UC Santa Barbara.
Learn more about Kloetzel's upcoming events by subscribing to her newsletter here (scroll to bottom of page to sign up).