Assistant Teaching Professor of Music Composition Sarah Gibson featured on I Care If You Listen for HOCKET's #What2020SoundsLike
Assistant Teaching Professor of Music Composition Sarah Gibson featured on I Care If You Listen for HOCKET's #What2020SoundsLike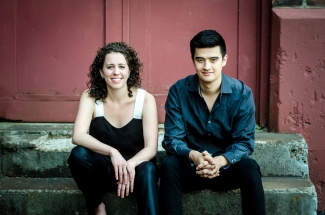 Media Contact
Adriane Cleary
Marketing and Communications Manager
UC Santa Barbara Assistant Teaching Professor of Music Composition Dr. Sarah Gibson and fellow pianist and composer Thomas Kotcheff, members of the new music piano duo HOCKET, wrapped their #What2020SoundsLike project at the end of October. In June 2020, the Los Angeles-based duo set out to commission 50 composers to write miniatures for piano duo as a response to the challenges of 2020. Over the course of five months, the duo recorded each of the pieces and posted them to HOCKET's YouTube and social media channels.
I Care If You Listen (ICIYL), one of the foremost contemporary classical music blogs and a program of the American Composers Forum (ACF), recently featured a review of HOCKET's #What2020SoundsLike.
ICIYL focused on several works in the review, including feeling, scared today by Richard An, Ash Field by Annika Socolofsky, Les barricades quotidiennes by Christopher Stark, Touch by Nina C. Young, c** y** h*** m*? by Peter Shin, Please Scream Inside Your Heart by A.J. McCaffrey, Kit01 by Hitomi Oba, Yea, We Talked About It by Derrick Spiva Jr., and Nobody Can Do It Like Me! by José Martinez.
The commissioned composers for #What2020SoundsLike also included Vicki Ray, Juan Pablo Contreras, Sakari Dixon Vanderveer, Ted Hearne, Veronika Krausas, Miro Sprague, Gemma Peacocke, Dale Trumbore, and Derek Tywoniuk, as well as UC Santa Barbara Composition alumnus Dr. Nick Norton '18.
Read the full story on ICIYL here.
The complete #What2020SoundsLike recordings can now be viewed on HOCKET's YouTube channel. The videos range from 30 seconds to just under two minutes in length and can collectively be viewed in about an hour.
Read more about #What2020SoundsLike on HOCKET's website here.
Gibson currently serves as Assistant Teaching Professor of Music Composition in both the UC Santa Barbara Department of Music and the College of Creative Studies. Previously the Los Angeles Chamber Orchestra's Sound Investment Composer, she has received commissions and performances from the Los Angeles Chamber Orchestra, American Composers Orchestra, Tanglewood Music Center, Left Coast Chamber Ensemble, the Aspen Contemporary Ensemble, and Chamber Music America, among others.