Assistant Teaching Professor of Music Composition Sarah Gibson to receive performance of work "warp & weft" by Seattle Symphony
Assistant Teaching Professor of Music Composition Sarah Gibson to receive performance of work "warp & weft" by Seattle Symphony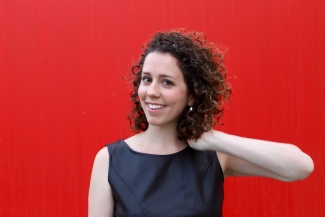 Media Contact
Adriane Cleary
Marketing and Communications Manager
UC Santa Barbara Assistant Teaching Professor of Music Composition Sarah Gibson will have her work, warp & weft, performed by the Seattle Symphony on Thursday, January 28, 2021 at 7:30 pm PST. Guest conductor Gemma New will lead the orchestra, and the program will also include a performance of Franz Joseph Haydn's Cello Concerto in C Major by soloist Efe Baltacıgil, as well as Sergei Prokofiev's Symphony No. 1 in D Major, Op. 25 "Classical."
Written in 2019 for chamber orchestra, Gibson's warp & weft was commissioned by the Los Angeles Chamber Orchestra during Gibson's residency as the organization's Sound Investment Composer. "warp & weft is inspired by the artwork of Miriam Schapiro," noted Gibson. "In particular, I was inspired by her term 'femmage:' a word invented by her to include activities such as collage, decoupage, assemblage, etc. as they were practiced by women using traditional women's techniques to achieve their art-sewing, piecing, hooking, cutting, appliquéing, cooking and the like." Listen to a recording of the work by the Los Angeles Chamber Orchestra, led by Peter Oundjian, here.
The January 28th concert will be available to stream via the Seattle Symphony Live platform here. To access the live stream, viewers can sign-up for a seven-day free trial, or subscribe to the Seattle Symphony Live series. The concert will be available to watch through February 4, 2021.
Gibson currently serves as Assistant Teaching Professor of Music Composition in both the UC Santa Barbara Department of Music and the College of Creative Studies. She has received commissions and performances from the Los Angeles Chamber Orchestra, American Composers Orchestra, Tanglewood Music Center, Left Coast Chamber Ensemble, the Aspen Contemporary Ensemble, and Chamber Music America, among others.