Corwin Chair of Composition João Pedro Oliveira receives First Prize in Destellos Competition (Graduate Composition student Rodney DuPlessis awarded Honorable Mention)
Corwin Chair of Composition João Pedro Oliveira receives First Prize in Destellos Competition (Graduate Composition student Rodney DuPlessis awarded Honorable Mention)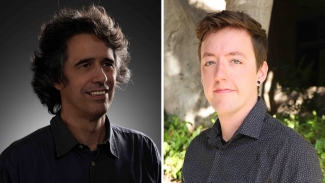 Media Contact
Adriane Cleary
Marketing and Communications Manager
UC Santa Barbara Corwin Chair of Composition João Pedro Oliveira recently received First Prize in the 13th International Foundation Destellos Competition of Electroacoustic Composition with his piece, La Mer Émeraude. Graduate Composition student Rodney DuPlessis was also awarded Honorable Mention for his piece, De Rerum Natura.
Created in 2007 in Mar del Plata, Argentine, the adjudicators for the 13th International Competition included Zuriñe Guerenabarrena (Spain), Andrew Babcock (USA), Daniel Blinkhorn (Australia), and Pablo Freiberg (Argentina).
Oliveira's notes for La Mer Émeraude are as follows: "Let us imagine a small invented world, a micro universe where everything exists...matter, energy, spirit, telluric movements, mysteries, natural and supernatural forces. That world is whole and from afar, whoever watches, sees it as a living ocean." Oliveira composed the work in the Musiques-Recherches studio and dedicated the piece to composers Annette Vande Gorne and Francis Dhomont.
Listen to La Mer Émeraude here.
Oliveira has received over 50 international prizes and awards for his works, including, among others, the Giga-Hertz Award and the Magisterium Prize from the Institut International de Musique Électroacoustique-Bourges (IMEB).
In January of 2020, Oliveira joined the faculty at UC Santa Barbara as Professor and the Corwin Chair of Composition. He serves as the Head of the Composition Program and teaches courses in composition, electroacoustic music, visual music, and contemporary techniques.
Graduate Composition student Rodney DuPlessis also received Honorable Mention for his piece, De Rerum Natura. This spring, the piece was also recognized as a finalist for the Society for Electro-Acoustic Music in the United States (SEAMUS)/The American Society of Composers, Authors and Publishers (ASCAP) Award, under the name Dimensionless. This summer, the piece earned another finalist spot in the SIMEC Electroacoustic Music Competition.
"De Rerum Natura is inspired by the concept of ""naturalness"" in physics, which presents a conflict between truth and beauty," noted DuPlessis. "In physics, the most natural theories ought to have dimensionless ratios of order 1 and ought not to have fine-tuned parameters. The tension between this widely applied concept on the one hand, and the promise of science to shed all bias in pursuit of truth on the other, guided my meditation within the soundscape of this piece. The sound material was recorded by the composer in Australia (Alpine National Park), Paris, Siena, and California. Composed at Musiques & Recherches in Belgium and at CREATE in California (2019-2020). The blending and processing of sounds reflects the tension between nature and naturalness; the way things are and the way we want them to be."
Listen to De Rerum Natura here.
In his music and research, DuPlessis explores the intersections and boundaries of physics, chaos, psychoacoustics, human-computer interaction, and novel synthesis techniques. The sonic results are often equal parts visceral and cerebral. His music has been performed and recognized with awards internationally.
As a programmer, DuPlessis develops synthesis, control, and sound transformation software that expands the artist's toolbox. As a producer, he has directed multiple festivals and concerts. His teachers have included Curtis Roads, Clarence Barlow, João Pedro Oliveira, and Martin Kutnowski.
DuPlessis is currently finishing a Doctor of Philosophy in Composition and a Master of Science in Media Arts & Technology at UC Santa Barbara.