Doctoral Voice Student Valdis Jansons featured in Opera Oviedo's production of Georges Bizet's The Pearl Fishers
Doctoral Voice Student Valdis Jansons featured in Opera Oviedo's production of Georges Bizet's The Pearl Fishers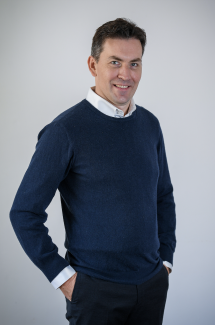 Media Contact
Adriane Cleary
Marketing and Communications Manager
Latvian baritone Valdis Jansons, a Doctor of Musical Arts student in Voice at UC Santa Barbara, was featured in Opera Oviedo's production of Georges Bizet's three-act opera Les pêcheurs de perles (The Pearl Fishers) in Oviedo, Spain earlier this year. The production premiered on January 25, 2021 and ran through February 6, 2021, and featured Jansons in the role of Zurga.
Les pêcheurs de perles premiered at the Théâtre Lyrique in Paris on September 30, 1863, and features a libretto by Eugène Cormon and Michel Carré. The opera takes place on the island country of Ceylon (present-day Sri Lanka), and tells the story of a love triangle between the priestess Leila and the fishermen Nadir and Zurga.
Directed by Yoshi Oïda, the Opera Oviedo production featured a double cast consisting of Ekaterina Bakanova and Larissa Alice Wissel in the role of Leila; Celso Albelo and Luis Gomes as Nadir; Borja Quiza and Jansons as Zurga; and Felipe Bou and David Lagares as Nourabad. The production also featured musical direction by Jose Miguel Perez Sierra, stage direction by Yoshi Oïda, set design by Tom Schenk, costume design by Richard Hudson, and lighting design by Fabrice Kebour. The cast was joined by the Oviedo Philharmonic Orchestra and the Oviedo Opera Choir, under the direction of Esteban Urzelai.
The production that premiered at Opera Oviedo has been acclaimed at Opéra Comique (Paris, France), Lièges-Opera Royal de Wallonie (Belgium), Opera National de Bordeaux (France), and Royal Opera House Muscat (Oman). It will also be performed at Opéra de Saint-Etienne (France) and Teatro San Carlo (Naples, Italy) later this year.
Spanish newspaper El Comercio, of the Asturias region, wrote of Jansons' performance: "with the baritone we return to surprises. Impeccable recreation of Zurga, the chief of the pearl fishermen. Forceful sound projection, correct tuning, good filling of the duos, looking sideways at their companions, adequate stage presence, fundamental in the most dramatic role of the work, and expressiveness in singing. The third act, the most demanding for the role of Zurga, was the impeccable cover letter of a baritone with a future (translated)."
Ópera Actual, the premiere Spanish opera magazine, noted that "on Zurga Opera Friday it was Valdis Jansons, a voice still almost undiscovered in Spanish theaters. The Latvian baritone delivered a very solid performance in the evolution of his character, from jealousy to acceptance and forgiveness towards the couple, with a moving ending. It is enough to remember the beginning of the third act, with a generous and expressive phrasing, while the friend's repentance appeared (translated)." Read the full review here.
Jansons is a second-year Doctor of Musical Arts student at UC Santa Barbara, where he studies with Associate Professor Dr. Isabel Bayrakdarian. Jansons made his opera debut in 2004 under the direction of Antonello Allemandi, and recently sang the dual roles of Don Giovanni and Leporello in the UC Santa Barbara Opera Theatre production of Don Giovanni. He is the winner of many international competitions, including the Giuseppe Di Stefano (2006) and the As.Li.Co. (2009) competitions, among others. He has sung more than 60 roles in more than 70 theaters all over the world, such as Teatro alla Scala, Moscow's Bolshoi Theater, Theater an der Wien, Teatro San Carlo di Napoli, Lincoln Center, and the National Centre for the Performing Arts (NCPA) in Beijing. He has also covered opera "stars" such as Leo Nucci as Rigoletto, Rolando Panerai and Juan Pons as Gianni Schicchi, and Roberto Servile as Marcello in La Bohème.
Listen to Jansons perform Zurga's aria, "L'orage c'est calmé," here and watch the full Opera Oviedo production of Georges Bizet's Les pêcheurs de perles here.