Faculty Members Jennifer Kloetzel, Ertan Torgul, and Dr. Sarah Gibson featured in Hartt School's Uncertainty of Fate Festival
Faculty Members Jennifer Kloetzel, Ertan Torgul, and Dr. Sarah Gibson featured in Hartt School's Uncertainty of Fate Festival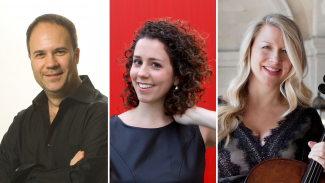 UC Santa Barbara faculty members cellist Jennifer Kloetzel, violinist Ertan Torgul, and composer Dr. Sarah Gibson were featured in the virtual Uncertainty of Fate Festival from May 1-5, 2021, sponsored by the Hartt School at the University of Hartford.
The festival commissioned over 45 composers to create miniatures on their impressions of the year 2020. The new works, with recurring themes of isolation, loss, and rage, were interwoven with existing pieces by Ludwig van Beethoven, Florence Price, George Theophilus Walker, Clarence Cameron White, Daniel Bernard Roumain (DBR), and Jeffrey Mumford in five streaming concerts from May 1-5. Hartt School faculty, guests, students, and alumni performed, some with dance and other media, as well as spoken creative writing pieces written by frontline medical workers.
Among the composers featured were Errollyn Wallen, Javier Colon, Alexandra Gardner, Juhi Bansal, Ken Steen, Robert Carl, Jonah Sirota, Elena Ruehr, Ethan Wickman, Nathalie Joachim, Paula af Malmborg, Gilda Lyons, and Dr. Sarah Gibson, Assistant Teaching Professor of Composition in both the UC Santa Barbara Department of Music and the College of Creative Studies.
The festival also hosted panel discussions such as, "Activating and agitating systemic change in your respective institutions," and "Healing and Conflict Resolution through creating art," as well as masterclasses, hosted by UC Santa Barbara Professor Jennifer Kloetzel and Lecturer Ertan Torgul.
On Concerts 2-5, Kloetzel and Torgul performed 18 works as part of QuartetES, with Hartt School faculty and Festival Director Rita Porfiris on viola, as well as violinist and faculty member Anton Miller. Kloetzel was also featured on the world premieres of both a string duo, Yours is Mynd (2020), by Aaron Clay (premiered with violinist Anton Miller) and a work for solo cello, Colorful Black (2021), by Jiaxin Zhang. Dr. Sarah Gibson's work Whirlpool was premiered by QuartetES on Concert 5.
The full program and links to watch all concerts are available here.
A graduate of The Juilliard School and a Fulbright Scholar, Kloetzel has concertized throughout the United States, Europe, and Asia as a soloist and chamber musician. A founding member of the San Francisco-based Cypress String Quartet (1996-2016), she has toured the globe and performed at such renowned venues as Lincoln Center, the Kennedy Center for the Performing Arts, the Chautauqua Institute, and the Ravinia Festival.
A Turkish-American violinist, Torgul has been a member of the award-winning SOLI Chamber Ensemble since 1996 and has served as its Managing/Artistic Director from 2011 until recently. He was in-residence at the Ojai Festival, Mainly Mozart, Point Counterpoint, and the Internationale Quartett akademie Prag-Wien-Budapest, and was the recipient of Austria's prestigious Prix Mercure, a prize winner in the Fischoff Chamber Music Competition, and a laureate of the Paolo Borciani International Quartet Competition.
Previously the Los Angeles Chamber Orchestra's Sound Investment Composer, Gibson has received commissions and performances from Los Angeles Chamber Orchestra, American Composers Orchestra, Tanglewood Music Center, Left Coast Chamber Ensemble, the Aspen Contemporary Ensemble, and Chamber Music America. Gibson is co-founder of the new music piano duo, HOCKET, which has been lauded as "brilliant" by Mark Swed of the Los Angeles Times.
Quartet ES (pictured from left: cellist Jennifer Kloetzel, violist Rita Porfiris, and violinists Anton Miller and Ertan Torgul)