Lecturer Dr. Maxim Kuzin conducts Thousand Oaks Philharmonic "Opus 57" Concerts
Lecturer Dr. Maxim Kuzin conducts Thousand Oaks Philharmonic "Opus 57" Concerts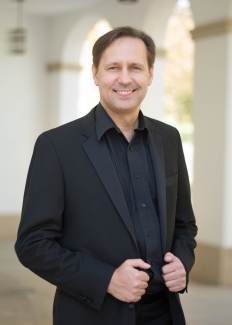 UC Santa Barbara Lecturer Dr. Maxim Kuzin conducted two concerts, titled "Opus 57," with the Thousand Oaks Philharmonic as one of two finalists for the position of the Music Director of the organization. The concerts took place on November 5 and 7, 2021 at the Bank of America Performing Arts Center Scherr Forum Theater, and featured six young soloists performing concertos by Johann Sebastian Bach, Max Bruch, Edvard Grieg, Dmitry Kabalevsky, Felix Mendelssohn, and Dmitri Shostakovich. The soloists included pianists Daniel Aluko, Jolynn Cai, Benjamin Chung, and Emma Sun, as well as violinists Beatrice Jiang and Jennifer Suarez-Tan.
"I am delighted to have had a chance to conduct Thousand Oaks Philharmonic, a highly professional orchestra comprised of union musicians, after more than a year and a half long break caused by the COVID pandemic," shared Dr. Kuzin. "It was a great pleasure to accompany on stage six young local talented soloists who had won an outstanding opportunity to perform with a fully professional orchestra. Supporting young talents was always an important part of my conducting career and made me particularly inspired about the concerts."
The Thousand Oaks Philharmonic seeks to provide opportunities for young artists in Ventura County to perform with a professional symphony orchestra in front of a live audience and to provide educational and culturally enriching experiences for the communities it serves.
Dr. Kuzin currently serves as Director of the UC Santa Barbara Chamber Orchestra. He is a graduate of the Doctor of Musical Arts program at UCLA where he studied with Professor Neal Stulberg. Before arriving in the U.S. in 2014, Dr. Kuzin held concurrent positions in Ukraine as Music Director of the Reinhold Glier Kyiv Institute of Music's Symphony and Chamber orchestras and Head of the Opera Department of Dnipro Glinka Conservatory of Music.
Dr. Kuzin is a recipient of the "Best Music Direction" prize from the Ukrainian Sicheslavna Festival of Theatres, has received the Elaine Krown Klein Fine Arts Scholarship Award (2017-18), and was designated as an "Emerging Artist" by the League of American Orchestras' Symphony Magazine in 2005.
Pictured below: Thousand Oaks Philharmonic Opus 57 Concert Flyer