Production and Events Manager Dr. Anthony Garcia '16 shares his experience as an LGBTQ+ Employee with Daily Nexus
Production and Events Manager Dr. Anthony Garcia '16 shares his experience as an LGBTQ+ Employee with Daily Nexus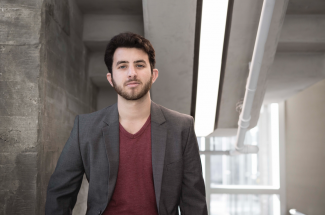 The Daily Nexus recently interviewed UC Santa Barbara faculty and staff members on UC Santa Barbara's Out List about their experiences within the field of higher education as members of the LGBTQ+ community. For the article, the Department of Music's Production and Events Manager and alumnus, Dr. Anthony Garcia '16, spoke about how his decision to join the Out List and publicly come out came from the importance of representation for his identity as a bisexual man.
"I felt it was important for me to come out publicly...because I have a sort of belief that no one's really that straight, or that much on any end of the spectrum, to be honest," shared Dr. Garcia. "I think it's important that we recognize that there are more examples of the in-between and where people fall on the spectrum."
Read the full Daily Nexus story.
Dr. Anthony Paul Garcia has served as the Production and Events Manager for the Department of Music since Fall 2017. He earned a Doctor of Philosophy (Spring 2016) and a Master of Arts (Winter 2013) in Composition from UC Santa Barbara, where he studied with Joel Feigin, Clarence Barlow, Curtis Roads, Matt Wright, and Jeremy Haladyna. Dr. Garcia's works have been performed throughout the country, with premieres and commissions from numerous performers and ensembles including the Now Hear Ensemble, St. Lawrence String Quartet, Ignition Duo, violist Dr. Jonathan Morgan '14, and percussionist Tyler Stell, Principal Timpanist of the Hollywood Bowl Orchestra.