Remembering a Champion of the Choral Arts: D. Stephen Sorensen (1960-2021)
Remembering a Champion of the Choral Arts: D. Stephen Sorensen (1960-2021)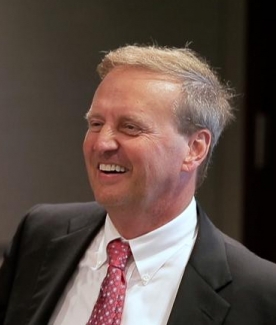 Media Contact
Adriane Cleary
Marketing and Communications Manager
The UC Santa Barbara Department of Music regretfully shares the news of the passing of D. Stephen Sorensen (April 6, 1960-January 17, 2021), a beloved member of our UC Santa Barbara community. Sorensen was a devout leader in the Church of Jesus Christ of Latter Day Saints and his faith and affection toward music, especially choral music, inspired a major gift to the UC Santa Barbara Department of Music. This pledge resulted in the creation of a new position, the Sorensen Director of Choral Music, established in 2018 by Steve and his wife Shannon P. Sorensen. The Sorensen's vital gift will ensure that there is a permanent position and resources available to the Director of Choral Music in future years to support teaching and programmatic excellence in UC Santa Barbara's Choral Music Program within the Department of Music.
In Fall 2020, Dr. Nicole Lamartine joined the Department of Music Faculty and was appointed as the inaugural Sorensen Director of Choral Music. Under Dr. Lamartine's direction, the Choral Music Program has expanded immensely. For the first time in many years, the program now supports master's and doctoral degree programs in Choral Conducting, affording talented students the opportunity to study the art of choral music and leadership under the guidance of one of today's most recognized choral music educators. Dr. Lamartine has also expanded the Choral Music Program to include a new tenor-bass choir, the UCSB Singing Gauchos, and has worked to make existing groups more inclusive of all singers by changing the name of the UCSB Women's Chorus to Lumina. Dr. Lamartine is inspired by Steve's ability to "dream big," and his penchant to amplify the positive impact of choral music in the lives of UCSB students. She says, "Thank you, Steve, for your generosity in support of choral music at UCSB by endowing the position I hold - the Sorensen Director of Choral Music. I'll continue your work."
The Department of Music is eternally grateful to Steve and to the entire Sorensen family for their commitment to support the choral arts at UC Santa Barbara. The impact of their generosity will be felt by generations of UC Santa Barbara Department of Music students, faculty, and alumni.