Remembering a Dedicated Performer and Music Educator: Wallace Umber (1924-2021)
Remembering a Dedicated Performer and Music Educator: Wallace Umber (1924-2021)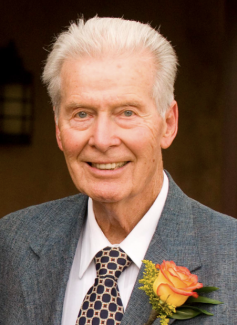 Media Contact
Adriane Cleary
Marketing and Communications Manager
The UC Santa Barbara Department of Music regretfully shares the news of the passing of Wallace Umber (1924-January 28, 2021), an accomplished UC Santa Barbara graduate. He was an important participant during the beginning of the Music Department at UC Santa Barbara, which was formerly part of Santa Barbara State College. Wallace was a leading trumpet student, and often toured California with brass ensembles under conductor Professor Maurice Faulkner. In his later years at the Samarkand retirement community in Santa Barbara, he often spoke about his experiences during presentations by UCSB brass musicians.
Wallace was an important part of the Los Angeles Unified School District, developing music programs at Venice High School and Emerson Junior High School. He founded the Santa Monica Emeritus band, and directed it for 40 years. He also brought a band to Venice High Community Adult School. Wallace was noted for teaching and performing trumpet, playing until shortly before his death. He also served as a sharpshooter for the U.S. Army in the European Theatre of World War II.
He is survived by wife Carol, six children, seven grandchildren, and seven great-grandchildren.