Undergraduate Student Noelle Barr named Second Prize Winner of the 2020 Library Award for Undergraduate Research in the Humanities and Fine Arts Category
Undergraduate Student Noelle Barr named Second Prize Winner of the 2020 Library Award for Undergraduate Research in the Humanities and Fine Arts Category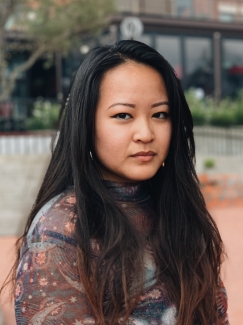 Media Contact
Adriane Cleary
Marketing and Communications Manager
UC Santa Barbara undergraduate student Noelle Barr was recently named Second Prize Winner of the 2020 Library Award for Undergraduate Research in the Humanities and Fine Arts category. The annual UCSB Library Award for Undergraduate Research (LAUR) recognizes students "who produce a scholarly or creative work that makes expert and sophisticated use of the collections, resources, and services of the UCSB Library." Barr's paper, "Musical Materiality," takes a close look at the façade of the Palais Garnier – the Paris Opera House – from the lens of art and architectural history, public use of the space in and around the Palais, and attitudes of the time about music and its place in French culture.
UC Santa Barbara Music faculty members Kyra Folk-Farber (Head, Music Library) and Martha Sprigge (Assistant Professor, Music History) were two of the four judges for the Humanities and Fine Arts category.
Barr is a rising senior at UCSB and a double major in Music Studies and the History of Art and Architecture. She began studying violin at the age of 9 and became a member of the Claremont Young Musicians Orchestra throughout high school, where she had the opportunity to perform and be coached by musicians of the LA Phil and Gustavo Dudamel in 2015. Since attending UCSB, Barr continues to play chamber music with the UCSB Department of Music and is a student of Ertan Torgul. She has participated in masterclasses with the Danish String Quartet and NY Phil violinist, Sheryl Staples. Barr is also an intern with the UCSB Art, Design & Architecture museum, allowing her to publish articles with LUM Art Zine, produce podcasts, and independently curate an exhibition at the Glass Box Gallery. Most recently, Barr has been granted the Howard C. Fenton Fellowship to conduct undergraduate research during the 2020-2021 academic year.