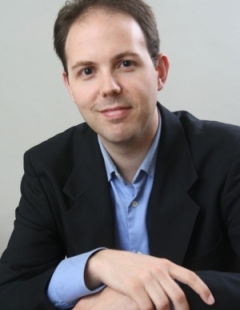 Specialization
BM Piano Performance, 2002
Bio
Adam Clark graduated from the Department of Music at UCSB in 2002 as a B.M. Piano Performance Major with High Honors and Distinction in the Major. He was also awarded the Erno Daniel Award in piano as well as being named an Outstanding Graduating Senior. Adam studied piano with Dr. Charles Asche.
While at UCSB, Adam was also the recipient of the Music Affiliates Quarterly Performance Award and designated a UCSB ArtsBridge Scholar for the 2001-2002 academic year. He was a winner of first prize in the Alice Nelson Music Scholarship Competition and performed with the San Luis Obispo Symphony as a winner of the competition.
Adam continued his studies in the M.M. Piano Performance degree at the University of Texas at Austin where he studied under Nancy Garrett. While at UT Austin he also worked with Anton Nel in chamber music, as well as with Sophia Gilmson and Martha Hilley in piano pedagogy.
He was accepted into the doctoral program at the University of Cincinnati College-Conservatory of Music and completed his studies there in 2008. While at Cincinnati, he was a student of Eugene and Elizabeth Pridonoff. He was also first alternate in the College-Conservatory's Concerto Competition for which he performed Bartok's Piano Concerto No. 2.
His dissertation is entitled Modern Marvels: A Pedagogical Guide to Lowell Liebermann's Album for the Young, Op. 43.
Dr. Clark was granted the Distinction Award at the Ibla Grand Prize International Competition in 2012 (Italy). He was also awarded the First Prize at the American Protégé International Piano Competition in 2010.
From 2008 to 2014 Dr. Clark was Assistant Professor at Hope College in Holland, Michigan. He was tenured there in 2014 and then accepted a position at Middle Tennessee State University in Murfreesboro, where he was recently promoted to Full Professor. He is Founder and Coordinator of the MTSU Keyboard Artist Series and Co-Coordinator of the MTSU Stones River Chamber Players concert series.
Dr. Clark has performed both in the United States and abroad as a recitalist, a concerto soloist, and a chamber musician. Venues include the Royal College of Music in Stockholm, Sweden, the Sydney Conservatorium in Australia, the Guro Arts Center in Seoul, Korea, and the Weill Recital Hall at Carnegie Hall.
His concerto performances with orchestra are numerous and include works of Stravinsky, MacDowell, Mozart, Gershwin, Saint-Saens, Chopin, Schumann, Rachmaninoff and Bartok.
During his tenure at MTSU, Dr. Clark has developed many of the texts used in both the Keyboard Studies Curriculum as well as the Class Piano program.
He has presented many lectures and master classes for local music teacher's associations affiliated with Music Teachers National Association and has reviewed many publications and recordings for the American Music Teacher magazine.
Dr. Clark is currently involved in a recording project of The Complete Piano Music of William Schumann.