Bridget Hough
Bridget Hough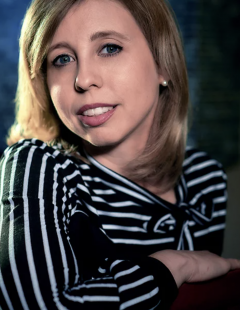 Specialization
BA Music, Spring 2006
MM Keyboard, Spring 2012
DMA Keyboard, Spring 2013
Bio
A native of Southern California, Bridget Hough is a versatile pianist known for her sensitive artistry and lyrical approach to the keyboard. Equally at home in solo, chamber, and vocal, as well as instrumental repertoire, she has played for music festivals in the United States and abroad, and is engaged regularly for collaborative recording projects, competitions, and performances.
She has been referred to as "the ideal collaborator," her playing described as "beautiful, lyricism always taking precedence over virtuosity, her impressive tranquility never faltering." (Gerald Carpenter, The Independent).
Bridget has played for masterclasses and private coachings with Stephanie Blythe, Alan Smith, Graham Johnson, Martin Katz, and Margo Garrett, in addition to serving as pianist for masterclasses conducted by Leonidas Kavakos, Roberto Diaz, Eduardo Villa, and the St. Lawrence and Emerson String Quartets. She has been an invited pianist for several summer festivals, including SongFest at the Colburn School, the Schubert-Institut in Austria where she worked with renowned pianists Helmut Deutsch, Julius Drake, and Roger Vignoles, and the prestigious Fall Island Vocal Arts Seminar led by Stephanie Blythe and Alan Smith, where she was a fellow for two seasons.
Committed to new music, Bridget has performed works by many contemporary composers, including Tom Cipullo, Juliana Hall, Jake Heggie, Libby Larsen, John Musto, and Thea Musgrave, among others.
A teaching assistant in collaborative piano at the University of California, Santa Barbara for three years, Bridget played for opera scenes, provided vocal and instrumental coaching, and assisted with the undergraduate accompanying class. Prior to that, she taught piano and music theory at private schools for nine years.
Bridget was awarded her Doctor of Musical Arts in Keyboard from the University of California, Santa Barbara in 2013, where she also received a Master of Music in Keyboard, and a Bachelor of Arts in Music degree, summa cum laude. She has studied piano with Paul Berkowitz and Robert Koenig.
A dual career artist, Bridget recently joined UCLA as the Executive Recruiter for the Medical School and Health Sciences. Previously she was with Russell Reynolds Associates, an international executive recruiting firm, where she spent seven years specializing in the recruitment of senior academic administrators for major research universities, academic medical centers, and scientific institutions.
At UCLA she is involved with the Mindful Music initiative, an interdisciplinary program designed to integrate music into communities in order to explore and share the health benefits of music through live performances, education, and research.