Chiao-Ling Sun
Chiao-Ling Sun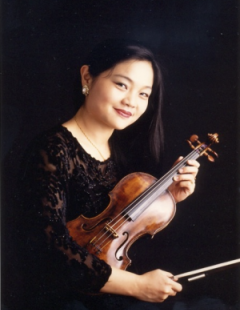 Specialization
DMA Strings (Violin), 2001
Bio
Dr. Chiao-Ling Sun holds the post of Professor of Violin in the Music Department at the National Taiwan University of the Arts. She currently teaches violin performance, chamber music, and string pedagogy.
After graduating from National Taiwan University of the Arts in 1981 with a diploma in music, she went on to obtain the Bachelor of Music Degree and Master of Music Degree from Peabody Conservatory of Music in 1986. In 1988, Dr. Sun was sent back to the United States on a full scholarship from the University of California, Santa Barbara, where she completed her Doctor of Musical Arts Degree in 2001.
While in the USA, Ms. Sun received the Pi Kappa Lambda Award, YASQ Fellowship, Advanced Teacher Training Program Fellowship, and the INA Broida Graduate Fellowship. She also premiered the "Tapestry" Piano Trio by American composer Joel Feigin at Carnegie Hall.
Chiao-Ling Sun has held the position of concertmistress of the Annapolis Symphony orchestra, Peabody Symphony Orchestra, Peabody Conductor Orchestra, National Experimental Orchestra, and Taiwan Academy of Arts Orchestra. She was also the Associate Concertmistress of the Maryland Symphony Orchestra, and the Baltimore Chamber Orchestra.
Ms. Sun founded and was the director of the highly acclaimed Taiwan String Quartet. The quartet toured the United States, Singapore, and Costa Rica, eliciting reviews from Costa Rican newspapers placing the quartet on a par with the Tokyo String Quartet.
Ms. Sun's solo career has taken her to performances in numerous international concert halls. Her repertoire includes concertos by Brahms, Mendelssohn, Sibelius, Vivaldi's "The Four Seasons," Violin Concerto "Butterfly Lovers" by Gang Zhanhao, Brahms' "Double Concerto," Beethoven's "Triple Concerto," and Vaughan Williams "The Lark Ascending." The Santa Barbara Independent described her performance:
"Her playing reflects a spirit of spontaneity that is both exciting and mesmerizing. Her natural romanticism creates an intensely moving experience."
In recent years, Prof. Sun has been invited to teach at various international music festivals, such as Schlern/Semper International Music Festival and Arcidosso International Music Festivals in Italy, as well as the Saarburg and Sulzbach-Rosenberg International Music Festivals in Germany. She is a distinguished violin professor in Taiwan.