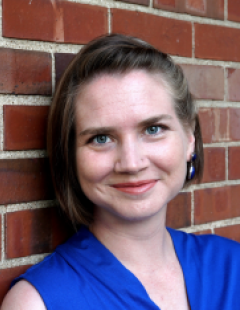 Specialization
MA Ethnomusicology, Spring 2006
PhD Ethnomusicology (emphasis in Feminist Studies), Summer 2011
Bio
Denise Gill received her Ph.D. in Music from UCSB in 2011. Her degree included an emphasis in Feminist Studies, and she was instrumental in linking the two departments so that Music graduate students after her could be eligible to apply for and complete an emphasis degree program in Feminist Studies.
Dr. Gill is deeply invested in critical pedagogies, and served as co-coordinator for the transdisciplinary UCSB Feminist Pedagogy Series in 2009-2010. She was the recipient of the Outstanding Teaching Award from the UCSB Academic Senate (2010) and an Excellence in Teaching Award from the UCSB Graduate Students Association (2007).
Dr. Gill is currently an assistant professor of ethnomusicology at Washington University in St. Louis in the Department of Music, the Department of Jewish, Islamic, and Near Eastern Languages and Cultures, and the Department of Women, Gender, and Sexuality Studies.
A specialist in the musics of Turkey and the land and seas formally under Ottoman control, her research engages the intersections of music-making and affective practice, health, gender/sexuality, Islam, social justice, and sound in relation to post-humanism.
Her work draws on four years of ethnographic research in Turkey funded by multiple grants including Fulbright (2007-2008, 2008-2009). Dr. Gill is a winner of the Ki Mantle Hood Award from the Society of Ethnomusicology (2007) and a Sakip Sabanci International Research Award (2008). She was recently a Fellow with the American Council of Learned Societies (ACLS).
Dr. Gill's first book Melancholic Modalities: Affect, Islam, and Turkish Classical Musicians was published with Oxford University Press in 2017. The book interrogates normative assumptions about melancholy through present-day musicians who champion, teach, and perform Turkish classical music, a genre substantially rooted in the musics of the Ottoman court and elite Mevlevi Sufi lodges. Typically dismissed as the remnants of Ottoman nostalgia, the melancholies intentionally cultivated by contemporary Turkish classical musicians emerge as reparative, pleasurable, and spiritually redeeming. "Melancholic Modalities" explicates the diverse terms, musical repertoire, improvisation gestures, and embodied practices of Turkish classical musicians who deploy and circulate melancholy in sound. More broadly, the book intervenes in current debates in ethnomusicology about the role of affect, and contributes innovative new methodologies of rhizomatic analysis and bi-aurality for music researchers.
Dr. Gill's current ethnographic fieldwork considers of distinct listening structures attuned to the sounds of death, loss, and migratory thresholds.
As a kanun (Middle Eastern trapezoidal zither) player committed to the study of Ottoman-Turkish Classical, Islamic, and Mevlevi music traditions, Dr. Gill has performed on radio and television programs and in concert halls in Turkey, the United States, and in multiple cities in Europe. She has served as a clinician for Middle East Ensembles and continues to perform as a solo recitalist with kanun and voice. As a fiddler, Dr. Gill has founded participatory music ensembles related to American vernacular music traditions (especially Old Time and Bluegrass musics). She utilizes participatory music-making and performance in her Muslim interfaith work and social justice advocacy in the St. Louis area.
Publications
Melancholic Modalities: Affect, Islam, and Turkish Classical Musicians
Oxford University Press, May 2017