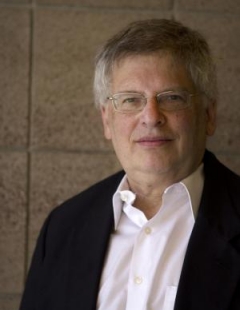 Specialization
Composition
Bio
Joel Feigin is an internationally performed composer, whose operas, chamber, orchestra, and piano works have been widely praised for their "very strong impact, as logical in musical design as they are charged with emotion and drama." (Opera Magazine).
Feigin's opera, Twelfth Night, based on Shakespeare's comedy, was produced in North Carolina, Chicago, and southern California, where it was hailed as a "glittering masterpiece" by critic Dan Kepl. Excerpts had also been featured at New York City Opera's VOX Showcase series and Opera America's New Works Sampler. Mysteries of Eleusis, Feigin's first opera, written on a Guggenheim Fellowship, was commissioned and premiered by Theatre Cornell; on the international stage it was featured at the Moscow Conservatory (Russia) and repeated at the Russian-American Operatic Festival.
Instrumental commissions include a Fromm Commission for Aviv: Concerto for Piano and Chamber Orchestra, written for Yael Weiss, as well as piano commissions from Leonard Stein and Margaret Mills. Ms. Mills included two of Joel's works on her album Meditations and Overtones (Cambria Recordings). Feigin's most recent CD (released on MSR Classics) presents the large-scale chamber work Lament Amid Silence, featuring violist Helen Callus. An earlier two-CD set, Transience (Albany), followed an all-Feigin concert at New York's Merkin Hall. Other concerts devoted solely to Feigin's music have been given in Russia and Armenia, and in New York at Merkin Hall and Lincoln Center's Bruno Walter Auditorium. Honors include a Mellon Fellowship and a Senior Fulbright Fellowship.
Dr. Feigin studied with Nadia Boulanger at Fontainebleau and with Roger Sessions at The Juilliard School. An accomplished pianist and accompanist, Feigin studied with Rosina Lhevine, and worked at the Metropolitan Opera in New York with Nico Castel. Feigin is a student of Zen Buddhism and Professor Emeritus of Composition at the University of California, Santa Barbara, where he lives with his wife, the Schoenberg scholar Severine Neff, and their dog, Hildy.
The Joel Feigin Collection at the New York Public Library of the Performing Arts at Lincoln Center opened in 2011.
To learn more about Joel Feigin, please visit joelfeigin.com.
Recordings
Lament Amid Silence (MSR Classics)
Joel Feigin, composer / Helen Callus, viola / Callus Viola Studio
Visit Fanfare magazine online (January/February 2013 issue) for a feature article on Joel Feigin.
"[This CD] makes its mark through a very personal and emotional combination of tonal and atonal elements. Opening quotes on the first page of the booklet state "Amid lament, there is silence; within silence, there is lament," and this is indeed the guiding principle Feigen uses in constructing this music. The opening Lament for solo viola is full of angst - much of the music here resembles Hindemtih - but there are also remarkably lyric interludes, brief soaring melodic lines that stand out, and of course many moments of silence which redouble the effect of the music. It must be said that violist Helen Callus is an extraordinary musician, able to elicit every mood and change of mood that Feigin has written into his score, and this opening movement is, for her, a real tour de force...Callus and her Viola Studio group play with exceptional feeling and virtuosity. This is the world premiere recording of this cycle of pieces, but truth to tell, it would be difficult to imagine anyone playing them as well, let alone better. Highly recommended to lovers of modern music."
- Lynn René Bayley, Fanfare Issue 36:3 [Jan/Feb 2013]