Tanner Cassidy
Tanner Cassidy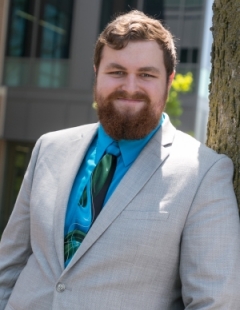 Bio
Tanner Cassidy is currently pursuing a Ph.D. in Music Theory at the University of California, Santa Barbara. Tanner completed his Bachelor of Music at North Central College in Naperville, Illinois.
Tanner's research interests include neo-Riemannian theory, topic theory, film music, jazz, musical nationalism, and music in Japan. He has recently presented on musical topics and nationalistic traces in Akira Ifukube's score for Gojira (1954) at Music Theory Midwest and the Music and the Moving Image conferences. Tanner is a member of the Society for Music Theory and the American Musicological Society.
Tanner is also a saxophonist, conductor, and composer, occupying his time on campus performing with jazz groups and conducting the UCSB Pops Orchestra. Tanner's compositions have recently been performed at the University of Memphis and by the Chicago-based ensemble Picosa. Also active with Santa Barbara arts organizations, Tanner works in the Marketing and Communications department at the Music Academy of the West and serves on the board of Opera Santa Barbara.