Kloetzel and Koenig's Beethoven Conquers Papers and Airwaves
Kloetzel and Koenig's Beethoven Conquers Papers and Airwaves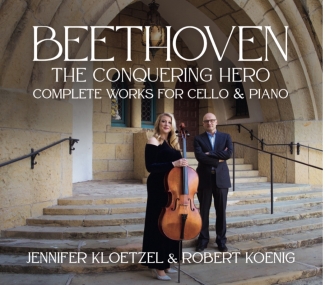 Beethoven: The Conquering Hero – Complete Works for Cello & Piano, recorded in the remarkable acoustic of Skywalker Sound by UCSB Department of Music faculty members Jennifer Kloetzel and Robert Koenig, has gained universal acclaim since its release earlier this year. The 3-disc set was released by Avie Records on January 21. Since then it has garnered stellar reviews and continues to be played on radio stations not only in the U.S. but all over the world.
Cellist Jennifer Kloetzel, Professor, Area Head of Strings, and Area Head of Performance is joined by pianist Robert Koenig, Professor of Collaborative Piano, as well as the Chair of the Music Department, for this ambitious project. Kloetzel has recorded the entire cycle of Beethoven Quartets and Brahms Sextets, also on the Avie label. Now (releasing her 36th CD), she and Koenig tackled Beethoven's set of works for cello and piano. Kloetzel considers the complete works to be: "the five Sonatas for Cello and Piano, three sets of variations – based on arias from Mozart's Die Zauberflöte and Handel's Judas Maccabaeus – and the Horn sonata for which the composer also wrote a cello part" (Avie). It is a masterful rendition of Beethoven, which comes as no surprise; for over twenty years Kloetzel has been studying, performing, and recording the composer's works.
This "winning Beethoven set" (All Music) has been positively reviewed by many prominent publications. BBC Music Magazine named it "Recording of the Month" for March 2022: "Kloetzel and Koenig's benchmark Beethoven is a masterclass in musicianship" and opened their article with "If only more cellists would play like this - and at this level of ceaseless musicianship ...." Gramophone's Rob Cowen considers the album a worthy rival to Hope Amid Tears: Beethoven Cello Sonatas, the similarly-programmed album by Yo-Yo Ma and Emanuel Ax, which received a Grammy Award this year. The Strad's Peter Quantrill writes that "The grave Adagio that forms the centerpiece of op.102 no.2 – a sustained elegy to rival any other in late Beethoven – finds both Kloetzel and Koenig in their element." The duo has impressed classical music writers and critics, and will certainly continue to do so.
Kloetzel has been interviewed about the album for numerous publications and radio stations, including MPR's New Classical Tracks, WQED-Pittsburgh, San Francisco Classical Voice, Harmonious World Podcast, The Cello Sherpa Podcast, KUSC, WQXR, KDFC, Sirius-XM, WBJC and ​​WGTE-FM to name a few. The album was a featured release on Chicago's WFMT and is a hit on classical radio stations all across the United States and in at least a dozen other countries. The Cello Museum highlighted the CDs, proclaiming Kloetzel "A hero of the cello with a Beethoven obsession…Her energy, ceaseless intellectual curiosity and virtuosic command of the instrument united in exceptional musicianship…"
Beethoven: The Conquering Hero is available on CD, downloading, and streaming directly from Avie. It can also be downloaded and streamed from all major services like Spotify, Apple Music and Pandora.
Article by Audrey Sandlin, staff writer and student in Writing and Literature at UC Santa Barbara.
Tracklist:
Ludwig van Beethoven (1770–1827)
CD 1 (69.23)
1. 12 Variations WoO 45 for cello and piano (13.09)
on "See, the Conqu'ring Hero Comes" from Handel's Judas Maccabaeus
Sonata for Piano and Cello No.1 in F, Op.5, No.1
2. I. Adagio sostenuto – Allegro (18.37)
3. II. Rondo: Allegro vivace (07.21)
Sonata for Piano and Cello No.2 in G minor, Op.5, No.2
4. I. Adagio sostenuto ed espressivo – Allegro molto più tosto presto (20.44)
5. II. Rondo: Allegro (09.23)
CD 2 (36.44)
1. 12 Variations Op.66 for cello and piano 11.14
on "Ein Mädchen oder Weibchen" from Mozart's Die Zauberflöte
Sonata for Piano with Horn or Cello in F, Op.17
2. I. Allegro moderato (08.36)
3. II. Poco adagio (01.33)
4. III. Rondo: Allegro moto (05.02)
5. 7 Variations WoO 46 for cello and piano (10.10)
on "Bei Männern, welche Liebe fühlen" from Mozart's Die Zauberflöte
CD 3 (66.33)
Sonata for Piano and Cello No.3 in A, Op.69
1. I. Allegro ma non tanto (13.43)
2. II. Scherzo: Allegro molto (05.54)
3. III. Adagio cantabile – Allegro vivace (09.15)
Sonata for Piano and Cello No.4 in C, Op.102, No.1
4. I. Andante – Allegro vivace (07.59)
5. II. Adagio – Tempo d'Andante – Allegro vivace (07.38)
Sonata for Piano and Cello No.5 in D, Op.102, No.2
6. I. Allegro con brio (07.26)
7. II. Adagio con molto sentimento d'affetto (09.39)
8. III. Allegro – Allegro fugato (04.48)