Professor Steven Gross joined by alumnus Azeem Ward '15 at Crescendo Summer Institute in Hungary
Professor Steven Gross joined by alumnus Azeem Ward '15 at Crescendo Summer Institute in Hungary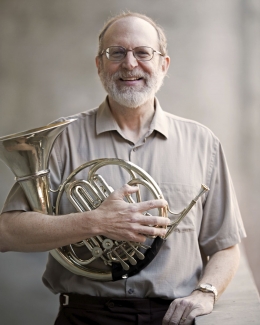 Dr. Steven Gross, Professor of Horn and Head of the Woodwind, Brass, and Percussion Area at UC Santa Barbara, was on the faculty and performed at the Crescendo Summer Institute in Tokaj, Hungary from July 21-August 2, 2021. Dr. Gross was joined by UC Santa Barbara alumnus Azeem Ward '15, who attended the institute as a participant.
Professor Gross presented the European premiere of a work he commissioned, Concerto for Horn, by Daniel Baldwin, during his time at the Crescendo Summer Institute. In addition, Professor Gross played George Frideric Handel's Water Music in the Baroque Orchestra, taught horn, and conducted the Brass Ensemble in works of Marc-Antoine Charpentier and Jean-Joseph Mouret. He was the only non-Hungarian member of the orchestra, and delivered horn instruction in English and German.
While at the Crescendo Summer Institute, Ward gave solo, chamber, and flute ensemble performances, including those from classical, beatbox, and jazz sources. Of the festival, Ward shared that he "really enjoyed exploring various genres and new perspectives of music," and he "found it a great place to discuss real world issues that impact musicians."
Dr. Gross is a former member of the Atlanta Symphony, National Symphony, Santa Fe Opera Orchestra, and for 24 years served as Principal Horn of the Cincinnati Chamber Orchestra. His international appearances include the Camerata Filarmonica Bohemia of Prague, Orchester der Stadt Vöcklabruck in Austria, Moscow Conservatory, L'Abri International Arts Festival in Switzerland, Beijing Central Conservatory, Nairobi Symphony in Kenya, and the St. Petersburg Conservatory of Russia.
Ward received a Bachelor of Music in Flute Performance in 2015 at UC Santa Barbara, where he studied with Professor Jill Felber, and received a Master of Music in Flute Performance from the University of Northern Iowa in 2017. In 2015, Ward's UC Santa Barbara senior recital went viral thanks to a public Facebook event, and was viewed by 55,000 people via live stream. The event was hailed by Jimmy Kimmel on Jimmy Kimmel Live! as "the most anticipated flute recital in the history of the country."