Undergraduate Student Clara Pitsker inducted into Phi Beta Kappa Academic Honor Society
Undergraduate Student Clara Pitsker inducted into Phi Beta Kappa Academic Honor Society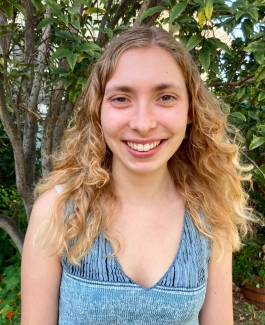 Media Contact
Adriane Cleary
Marketing and Communications Manager
UC Santa Barbara undergraduate student Clara Pitsker has been inducted into Phi Beta Kappa, the nation's oldest academic honor society. Founded in 1776, the invitation-only society recognizes exceptional academic achievement in the arts and sciences and maintains 290 chapters at American colleges and universities.
To be eligible for election to the UC Santa Barbara chapter, California Lambda, students must have taken courses across all three of the major divisions in the College of Letters and Science, including the humanities and fine arts, social sciences, and math, life, and physical sciences. The UC Santa Barbara chapter elects only about one percent of graduating seniors each year, and election in the junior year is extremely rare.
Pitsker, a fourth-year Music Studies and Environmental Studies major, has been on the Dean's honors list each quarter during her time at UC Santa Barbara and is part of the Letters and Science Honors Program. Last year, Pitsker was a recipient of the Duval Scholarship for Double Majors.
Pitsker has also played viola in the UCSB Chamber Orchestra and Pops Orchestra at UCSB for the last three years and volunteers with Giving Bach. She is interested in environmental and music education in addition to gender issues in music. In her free time, she likes to cook and post recipes on her blog.
During her final year at UC Santa Barbara, Pitsker will work with Associate Professor David Paul on her senior project and will continue to take viola lessons with Lecturer Jonathan Moerschel.
Learn more about the UC Santa Barbara chapter of Phi Beta Kappa, California Lambda, here.
Visit the national Phi Beta Kappa website at pbk.org.