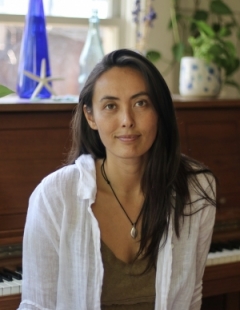 Specialization
BA Ethnomusicology, 2014
Bio
With extensive formal training in classical piano and substantial experience in various genres, Sio is an active professional musician, multi-instrumentalist, composer, performer, recording artist/songwriter, and educator in Santa Barbara. She graduated from Santa Barbara High in 2010, and from UCSB in 2014 with a degree in Ethnomusicology.
Sio is continuously inspired to give back to the community that shaped her as an artist by being involved in music and arts education. She is currently working on a compositional collaboration with the UCSB Dance Department, and is co-writer, co-director, and composer for a community arts film called "Labyrinth", in collaboration with the Community Arts Workshop (to be released in late winter). She teaches privately and in workshop settings, and works as an accompanist and performer. She also teaches piano, guitar, and songwriting privately to students of various ages through her own studio, SB Musicology, and the Music and Arts Conservatory. She is also an educator in the Santa Barbara High School Theatre Department, having worked on over a dozen productions as music director, and vocal director, and as a specialist teacher for the advanced theatre class. She has been music director with other local theatre companies such as Out of the Box Theatre Co. and Stage Left Productions, and was music director for the community theatre project, Cuentos del Pueblos at the Community Arts Workshop. She has also composed music for films in the Santa Barbara Film Festival. Sio is involved in several local performance groups such as the Santa Barbara Folk Orchestra, Fratelli, and Ojai O'Daiko. She also performs classical chamber music as well as her own original music.
Learn more about Tepper at sioteppermusic.com, instagram: @siobear, or facebook.com/sio.tepper.music.