Rachel Galvin
Rachel Galvin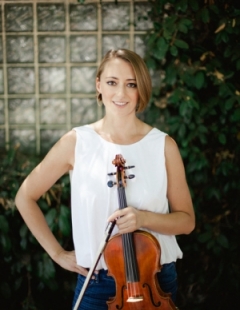 Specialization
MM Strings (Viola), June 2012
DMA Strings (Viola), December 2013
Bio
I am a freelance musician, movement specialist, and dedicated educator living in the Southern California area. I received my Bachelor's of Music in Viola Performance from the University of Oklahoma under the tutelage of Dr. Matthew Dane. I completed my Master's of Music and Doctor of Musical Arts both in Viola Performance at the University of California, Santa Barbara under the instruction of Helen Callus.
I participated in festivals across Europe and the United States. I have performed at the Kennedy and Lincoln Centers, and even on top of the highest point of the Italian/Swiss Alps at the monastery at Col du Grand St. Bernard. I have played in mastersclasses for the likes of Heiichiro Ohyama, Cynthia Phelps, Jerzy Kosmala, as well as members of the Emerson, Juilliard, and St. Lawrence String Quartets.
I have a fondness for alternative musical styles including Modern, Jazz, Celtic, and Rock music. I frequently perform alongside my husband and guitarist, Jay Galvin, as a part of our duo Riviera Strings. Every Thursday evening, I can be found playing fiddle and singing with the Celtic fusion band Dannsair in downtown Santa Barbara.
My true passion is musician's health and fitness. For much of my career, I struggled with playing related repetitive stress injuries, but found no real help from the many medical professionals I consulted. In frustration, I turned to rehabilitating myself through exercise. After completing my Doctorate, my mission became sharing with the musical community what I have learned about exercise and rehab. I presented "An Introduction to the Feldenkrais Method" at the 2018 American Viola Society Festival in Los Angeles. I am a Certified Feldenkrais Method® Practitioner and Level 2 CrossFit Trainer. I hold certificates from Functional Movement Systems, The Brand X Method, and Foundation Training.
I offer music lessons, strength training for musicians, and Feldenkrais work. You can find more about me at mindfeltmethods.com.